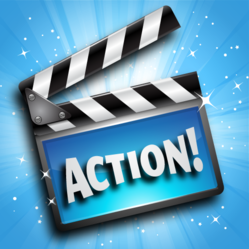 San Francisco, CA (PRWEB) December 18, 2012
Lights, Camera, Action! Local mobile entertainment company Showbucks.tv announced today that it will launch Action! – a revolutionary, patent-pending social video app that will save human interactions from the enslavement of anti-social drone mobile apps. Action! is the first cross-platform social video acting and word guessing game. Pick a word, act it out in a video, send it to a friend, and challenge him/her to watch and guess the word. Talk, sing, dance and flirt. Action! is Charades gone Gangnam Style!
Showbucks' Founder and CEO, Michael Yuen, envisions people playing games with humans again versus playing with virtual farm animals. In this vision players take turns acting and guessing. Parents will be playing with children, acting out characters from classic movies and TV shows. Teens will be acting out popular songs and dance styles with friends. Actors and comedians will be promoting movies and TV shows by playing characters and scenes from upcoming movies and shows. Musicians will be playing with fans. Founder Yuen believes that social apps should enable people to interact with other human beings face-to-face and promote real social relationships.
Action! will be available this week on the iPhone, iPad, iPod, and soon on Android devices.
iTunes App Store Search Keywords: Action Charades
iTunes App Store Download Link: https://itunes.apple.com/us/app/action!/id572063522?mt=8
Product Video: http://youtu.be/Q2QqSJDQ4sA
About Showbucks
Showbucks is a mobile entertainment technology company based in San Francisco. The company's mission is to connect people and bring face-to-face human interaction back to social networking and mobile entertainment. Showbucks' patent-pending mobile entertainment platform combines social video with social gaming technology to deliver a series of next generation social video apps to consumers across mobile devices. Action! is the first cross-platform social video acting and word guessing game for iPhone, iPad, iPod, and Android devices.
Showbucks is founded by award-winning entertainment and technology entrepreneur Michael Yuen. Yuen pioneered 3D online games for movies like The Titanic and The Fifth Element and also founded Apptera.com, the world's first cloud-based speech application platform, currently hosting over 100 million calls per year for customers like Bank of America and Fandango. Showbucks is incubated at the Founders Den and Turner Media Camp. Showbucks' investors include Turner Broadcasting.
For more information, please visit http://www.showbucks.tv.