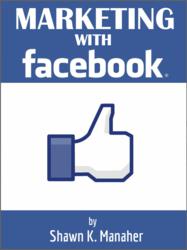 Marketing with Facebook is no longer an option. It is a necessity if anyone is serious about marketing their products, services and business online
Cranberry Township, PA (PRWEB) December 12, 2012
The Content Authority's President and CEO, Shawn Manaher, has launched a comprehensive new guide titled "Marketing with Facebook." Aimed at online marketers, the book helps both successful and inexperienced social media community and brand managers leverage the world's largest network more effectively.
This new literary offering comes only a few short months after the launch of Manaher's first social media based eBook, "Marketing with Pinterest." Understanding that businesses need to find their social media footing in order to survive and thrive in an increasingly volatile online world, Manaher plans to create resources that draw on his experience and expertise as an online business owner.
"Marketing with Facebook is no longer an option. It is a necessity if anyone is serious about marketing their products, services and business online," says Manaher. "Facebook provides a tremendous amount of opportunity and value for all individuals and business owners."
With more than one billion registered users and counting, Facebook offers companies massive market potential, as well as a wide range of features and tools designed for marketing purposes. In addition to generating brand awareness, marketers who effectively leverage the platform can expect to drive more web traffic to their main business site and increase conversions.
With this in mind, Marketing with Facebook covers several crucial topics, including:

The basics of Facebook as a marketing tool
The value of Facebook for business
Creating a killer Facebook Strategy
The best tools and apps to amplify the success of campaigns
How to develop and optimize a Facebook Business Page
Top marketing tactics that work
The biggest faux pas to avoid
Essential metrics to measure progress
Marketing with Facebook can be downloaded via Amazon.com for free between December 12, 2012 and December 13, 2012. Once this limited offer ends, interested readers can purchase a copy for $3.99.
For comments and interviews, please contact Mr. Manaher via email at shawn(at)thecontentauthority(dot)com.
About Shawn Manaher
Shawn Manaher is the president and CEO of iMarketing 2030, LLC, and is the company founder and CEO of The Content Authority. He knows what customers want and how to meet their needs. With an impressive set of credentials and the experience to back him, Shawn has successfully nurtured The Content Authority into the industry leader it is today. With the vision and drive to create winning strategies for Internet marketing, there is no doubt The Content Authority's list of services and content solutions will continue to grow.
About The Content Authority
The Content Authority is a leading custom content provider specializing in writing services, submission services, and content management. Their main goal is to provide businesses and individuals with affordable, high quality products and services that strengthen their marketing campaigns. TCA delivers truly personal attention and exceptional customer service to both current and prospective clients. With an integrated and progressive approach to content creation and management, entrepreneurs can ensure they drive their business forward.
For more information, please contact support(at)thecontentauthority(dot)com.
###