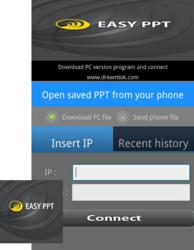 Access, Edit, & Show PowerPoints From Your PC With Easy PPT!
(PRWEB) December 19, 2012
A more efficient way for everyone from students to business professionals to utilize PowerPoint presentations when at meetings away from their computers, Easy PPT connects directly with users' home computers with the help of an Easy PPT companion program. Once up and running users can inst antly log into their computers remotely and access any PPT file they want to. That's just the tip of the iceberg when though. Since Easy PPT is built from the ground up with the pressure sensitive S pen stylus and its. Net framework included users aren't simply able to remotely access and send presentations; they can edit and interact with them in real time before and evening during presentations anywhere.
The app gives users the option of writing within open PPT files they have either with a stylus such as the S pen or simply with their fingers. Too boot, pressure sensitivity features enable users to recreate natural looking notes and additions seamlessly. Adding in photos to PPT presentations is a breeze as well. If users take photos through the app those photos will instantly be added and available for viewing on any PC screen their presentation is being shown on. A fully well rounded remote access & sharing utility, Easy PPT is set to revoluti onize how mobile users interact with their PowerPoint presentation needs. Now fitted with expanded functionality and a vividly striking new interface, this is one app that no active PowerPoint user should do without.
SEOWONJIN is a college senior at Dong Lui University. He is a independent mobile applications developer and committed to enhancing and controlling users interactions with their PowerPoint presentation needs. Also He is keenly focused on developing innovative and uniquely convenient new PowerPoint connection utilities for modern tech savvy student and business professionals.