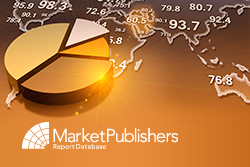 London, UK (PRWEB) December 12, 2012
Monoclonal antibodies (mAb) represent one of the fastest growing segments of the global pharmaceutical market. In 2010, mAb market revenues amounted to more than USD 42.5 billion. Amgen Inc, Johnson & Johnson, Novartis AG, Eli Lilly and Company Biogen Idec, Merck & Co Inc, Abbott Laboratories and Roche Holding Ltd. are amid leading companies on the mAb market. The U.S. and Japan are the most prominent country markets for mAb.
New research report "Monoclonal Antibody Partnering Terms and Agreements" elaborated by CurrentPartnering has been recently published by Market Publishers Ltd.
Report Details:
Title: Monoclonal Antibody Partnering Terms and Agreements
Published: December, 2012
Pages: 1252
Price: US$ 2,695.00
http://marketpublishers.com/report/life_sciences/biotechnology/monoclonal-antibody-partnering-terms-n-agreements.html
The report delves into the monoclonal antibody market and reviews partnering deals and agreements in 2007-2012. The research study provides an extensive analysis of the mAb dealmaking directory by deal type, stage of development and by therapy indicators. Besides, the report thoroughly examines monoclonal antibody deals by technology type. The report offers comprehensive assessment of partnering deals and points out key market trends. It also indicates top companies active in the market and includes bigpharma monoclonal antibody partnering company profiles. Moreover, the research contains contract documents, deals' records and their financial terms.
Reasons to Buy:

The report offers a detailed overview of the global monoclonal antibodies market.
The research study provides an in-depth understanding of trends of the monoclonal antibody market. It also unveils valuable data on partnering in the research, development and commercialization of biomarker technologies and products.
The extensive analysis of the changing nature of deals terms provides an insight into the negotiation process and shows what one can expect to achieve during the negotiation of terms.
The reports will help you to find answers to numerous questions about a prospective partner's flexibility on a raft of important issues
More new market research reports and databases by the publisher can be found at CurrentPartnering page.