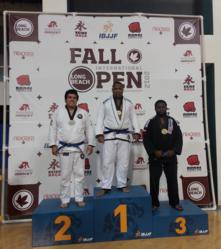 Elkridge, MD (PRWEB) December 12, 2012
Pan American Brazilian Jiu-Jitsu Champion, Alfonso Washington wins Gold in his first competition back since undergoing surgery.
The Long Beach International Open, run by the International Brazilian Jiu-Jitsu Federation (IBJJF), was Alfonso Washington's first competition since undergoing surgery for his hernia. With a Gold medal in the Ultra-Heavyweight division and a Bronze in the Open, Alfonso Washington picked up where he left off. Alfonso Washington started the day off with a 4-0 victory in his first match. He followed that up with a hard fought 1-advantage victory to enter the finals of the Ultra-Heavyweight division. He carried the momentum of his semi-finals victory into the Finals and took the Gold.
Alfonso Washington joined his fellow Crazy 88 Brazilian Jiu-Jitsu teammate and winner of the Middleweight division, Devon Delbrugge into the Open Division. In his first match of the Open, Alfonso won another close match 2 advantages to none. In his next he swept his opponent twice for a 4-2 victory. In his last match of the day he was choked by a Judo Black belt and took home the bronze.
Alfonso Washington is not your typical serious Brazilian Jiu-Jitsu competitor. Alfonso (or "Big Sal" as he is called at Crazy 88 Brazilian Jiu-Jitsu) has a full-time government job. Also, "Big Sal" is in his thirties, which is an age range where most fighters see their skills erode. Despite his age and other life obligations, "Big Sal" has amassed an impressive list of accomplishments in his Jiu-Jitsu career. Alfonso has won the Pan-Ams, Abu-Dhabi Pro Trials, and took silver at the Brazilian Nationals all within this past calendar year.
The competition schedule, although rewarding, took a toll on Mr. Washington's body. After the World Championships in June, Al went under the knife to cure a sports hernia that nagged him throughout the season. After a sports hernia surgery, an athlete is usually laid up for a significant amount of time. However Al made a speedy recovery and was back on the training mats within a matter of weeks.
Big Sal" will compete again at the European Open in late January. The year looks promising for Washington, having already won and medaled at Grand Slam tournaments last year.
Al trains out of Crazy 88 Brazilian Jiu-Jitsu - http://www.BaltimoreMixedMartialArts.com