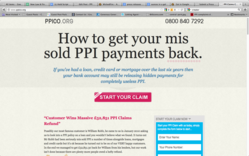 humiliating and highly damaging
Manchester, UK (PRWEB UK) 14 December 2012
HSBC has been in the media spotlight recently and not for the right reasons, with the UK-based bank linked to a number of financial scandals. The most notable of which is the PPI claims debacle that left thousands of it's customers with over-priced, unwanted and useless insurance on their borrowings.
According to the Independent; HSBC has set-aside £1.2bn so far to cover their customer's PPI claims and now it's emerged that they've paid out the same amount again following allegations of money laundering in the US. A Senate investigation into a number of banks found that HSBC hadn't done enough to prevent the laundering of cash by a number of unscrupulous customers.
In the piece on PPICo.org's blog, the indiscretions are highlighted along with information on the US Senate report about the investigation. Describing the numerous scandals that HSBC has exposed itself to, the post comments:
"Whether it's useless mis sold PPI, over-priced mortgages, libor fixing or pressure selling; banks have spent the last 20 years putting profit-at-any-cost way before customer needs."
Adding: "The latest cornerstone of society to flout legal and moral codes is HSBC, but it's not been mis-selling financial products or fixing interest rates – the UK-based bank has been penalised for disguising the proceeds of crime so that the money cannot be linked to the wrongdoing, also known as 'money laundering'."
The money laundering story has also been well covered by media, not least the BBC. Speaking about the findings of the report, BBC business editor Robert Peston said:
"HSBC has signed a Deferred Prosecution Agreement effectively putting it on probation, if HSBC had been indicted for these offences, that would have meant that the US government and others could no longer have conducted business with it, which would have been humiliating and highly damaging."
With a new scandal revealed almost every week it's all too easy to go bank bashing, but the public seem to have a healthy appetite for poking the perpetrators of the current economic downturn. You can read the full blog post at http://www.PPICo.org/blog.