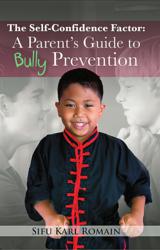 The Self-Confidence Factor is a wonderful tool for both parents and kids trying to deal with conflict in a productive way.
Lisa Oz, Author, radio and television personality.
Edgewater, NJ (PRWEB) December 13, 2012
"The Self-Confidence Factor" provides parents and educators with the information necessary to arm children with the greatest defense against bullying, confidence! Different types of bullying & how to handle them are a crucial part of this book
*Cyber-Bullying & what parents need to know.
*Ways to defuse physical situations.
*Effects of Bullying on those who are targeted.
"The Self-Confidence Factor" includes ways to work with children to best support, protect, and instill confidence in them. Also in this book are basic self defense techniques used in martial arts training as well as self-defense scenarios. There are discussion questions at the end of each chapter. These questions are designed to help engage children to achieve maximum benefit from the material in this book. The book is available in both e-book and soft cover format.
A portion of the proceeds from the sales of this book will be donated to TheDON'TWAITProject® and Healthcorps®.
About the author:
World Champion and United International Kung Fu Hall of Fame inductee Sifu Romain has been studying and training in Kung Fu for 34 years.
He is the owner and master instructor of the Edgewater Kung Fu Academy in Edgewater, NJ.
His television appearances include: Oprah, Dr. Oz,NBC 1st Look, The Discovery Health Channel, ESPN, Good Day New York, MSG Networks, ABC-TV News and Fox National News.
He is the founder of Kung Fu for a Better Life which is a non-profit organization offering programs focused on empowering children through basic martial arts philosophies.