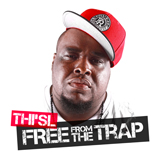 I want to show my community that even though we are born in these hoods to deal with crazy circumstances, we are not trapped here.
St. Louis, Missouri (PRWEB) December 13, 2012
Much of the mainstream hip-hop promotes drugs, violence, and sexual gratification as objects to be prioritized and valued in life. However, Thi'sl continues to offer his audience a completely different option to aim for through his music. In his newly released album, Free From the Trap, which debuted at #8 on iTunes hip-hop charts, Thi'sl speaks of his journey from being a gangster in St. Louis to a successful independent artist/businessman who builds up his community, travels the world, and strives to have integrity in all that he does. In his latest video for his single "Motivation," Thi'sl gives a clear picture of how one person can truly provide positive incentives for people to seek to live profitable, character-rich lives in areas where many feel hopeless and enslaved to their negative conditions.
The video for "Motivation" was shot at an annual barbeque celebration that Thi'sl hosts in the neighborhood he grew up in on the Westside of St. Louis and features many of his family and friends from his past of dealings and gang banging. Not only are the scenes authentic, but they also give beautiful insight into the type of positive change Thi'sl has on his family, friends and neighborhood. When speaking of the annual block party Thi'sl says:
"I host the event for the people in my hood to show that I'm free from the trap and that they can be too, and to be honest, I also do it because the only people who usually host big events like mine in the hood are dope boys. I want to show my community that even though we are born in these hoods to deal with crazy circumstances, we are not trapped here. It's crazy because my little cousins and friends are impressed by the things I've been blessed with or able to do, but I'm able to show them that my life is more than what I possess or whatever status I have or don't have."
As Thi'sl prepares to release his autobiography and first book early next year, he uses the video for "Motivation" to place a visual to his life-based album, Free From the Trap. "As I wrote the album I thought about what songs I would want to come in if I was doing a movie of my life," Thi'sl says. "As for the 'Motivation' video, I wanted to give my audience a legitimate peak into how my life has changed from tearing down my community to now being used to build it up."
Click Here to Watch The Official "Motivation" Video: http://youtu.be/1Wp2EFcbmI0
For more information of upcoming events for Thi'sl, supporters should join the Thi'sl Facebook page at http://www.facebook.com/iamthisl and follow Thi'sl on twitter at http://www.twitter.com/thisl.