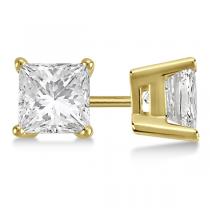 At Allurez there is an easy to navitage 'design your own earrings program online, easy as 1-2-3
New York, NY (PRWEB) December 13, 2012
When it comes to diamond studs, the choices are endless. Thanks to new online technology, individuals have the opportunity to create their own earrings, allowing them to choose the diamonds, the setting, the backing and the price point right online. The days of ordinary solitaire diamond studs are over….there are options…tons of them.
An Allurez spokesperson said, "Bezel, Basket, Martini, Halo...no matter what style or setting, when it comes to designing your own earrings, the sky's the limit. At Allurez there's an easy to navigate 'design your own earrings' program online, easy as 1 – 2 – 3."
Before designing the perfect pair of diamond studs, take the following things into consideration:
Take a Good Look at Yourself: When choosing the perfect pair of diamond studs it is important to first evaluate face shape to determine what will look best.
Round-cut studs work well with thin or narrow faces, while broader, fuller faces are best complemented by a princess (square) diamond stud.
Next, choose the metal color that best suits the wearer's skin tone. Cooler skin tones usually look best with white gold or platinum against their face, while yellow gold harmonizes really well with warmer skin tones.
Hug Me Tender: When selecting diamond studs, always consider the setting. Remember that stud earrings look best when snug against the ear.
Martini or basket settings with three or four prongs or the more modern bezel settings are best, designed to sit right against the lobe.
A halo setting encircles the diamond with an additional border of diamonds. This setting emphasizes the diamonds brilliance and sparkle while making the stone look bigger than it actually is.
Bezel settings completely surround a diamond with a precious metal band that fastens the diamond securely into place.
Martini settings are prong set diamonds that sit low to the ear and make the diamond appear to float.
A basket setting allows light to come in from the bottom for more sparkle. It usually features four prongs, and is very popular for solitaire settings.
Count on the Four C's: Cut, Clarity, Color and Carat should all be considered when choosing any diamond. Since studs, unlike diamond rings for instance, are worn less conspicuously, imperfections and inclusions may not seem as obvious. A general rule for choosing diamonds for stud earrings is finding diamonds that are at least H-I in color and SI2 in clarity. In addition, minor size differences between the two stones will not be detectable to the naked eye; however color and clarity should always be the same.
An Allurez spokesperson continued, "At Allurez we make it easy for customers to build a pair of diamond earrings according to their own personal specifications. Thanks to our advanced technology we are able to offer customers a number of options including the ability to individually select the specific setting, the size, shape and quality of the diamonds they wish to use, pick the metal type and create their own unique diamond earring studs. We worked arduously to create a technology that makes it fun and easy for anyone to create the perfect pair of unique earrings."
Allurez is an established jewelry designer and retailer with its flagship office located in the heart of the diamond district in New York. Allurez carries loose diamonds, diamond rings, and other fine jewelry. In addition Allurez gives buyers the option to design their own earrings, engagement ring or pendant in three easy steps. The Allurez mission is to provide customers with high end jewelry at affordable, discounted prices, to educate the public about the jewelry industry, and to make shopping for engagement rings, diamond and gemstone jewelry easy and rewarding. You can visit them online at http://www.allurez.com .