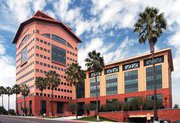 Now there's a permanent, safe, effective and natural looking way to restore lost eyebrows using your own hair.
San Diego, CA (PRWEB) December 12, 2012
Shaft Medical San Diego, the area's leading aesthetic medicine practice providing the full range of advanced cosmetic procedures, now offers NeoGraft Automated FUE Hair Transplantation for eyebrow restoration.
Eyebrows provide definition and expression for your face. The effects of full or partial eyebrow hair loss can be devastating no matter what your gender. While many get by with an eyebrow pencil or tattooing, it is now possible to transplant your own hair to create natural appearing eyebrows all your own.
There are several causes for eyebrow hair loss in both men and women. Such reasons could be a congenital inability of growth, physical trauma such as burn, accidental injuries, or over-plucking of the eyebrows, medical disorders such as thyroid diseases, alopecia areata or lupus, as well as some psychological obsessive disorders causing self-inflicted obsessive plucking of eyebrows and eyelashes.
Due to the challenges of the current job market, social relationship competition, and the aging baby boomer population affected by hair loss, hair restoration procedures and treatments are one of the fastest growing segments in the aesthetic industry.
In the past, San Diego and La Jolla hair transplantation procedures were time intensive, invasive, and required specialized skills that were developed over time. NeoGraft is a revolutionary, FDA-approved automated hair transplant device. With NeoGraft hair restoration La Jolla and San Diego, hair is harvested one hair at a time from the back of the head without leaving the large linear scars associated with the strip method.
NeoGraft offers several advantages over the traditional hair transplant method. The traditional or strip method is the old technique where a section of the scalp is removed and individual hairs are dissected from the scalp strip for later implantation in thinning areas. Since there is no scar with NeoGraft, there is no need for painful stitches and healing time is significantly reduced. And, with NeoGraft there is no numbness of the hair donor area or the very tight feeling that can be caused by an incision. Results are generally much more natural appearing with NeoGraft due to the precision of the harvesting and implantation process.
After planning the appropriate pattern of hair restoration for each patient, a small area of hair in the back of the head is cut short. Then, using the NeoGraft hand piece, about 1 mm in diameter, individual naturally occurring follicular (hair) units, each containing from 1-5 hairs, are extracted from the scalp. By using gentle air pressure to slide out each follicular hair unit, there is no twisting, pulling or cutting, thus avoiding any damage. These hairs are then implanted into the eyebrows, maintaining their viability and increasing the success of the grafting process.
Now, with the NeoGraft method of "follicular unit extraction", or "FUE", hair follicles are gently lifted out of the scalp with a small instrument and light suction, and are then placed into the bald or thinning areas with reverse air pressure. The eyebrow restoration procedure is carefully designed to meet your desired objectives, carefully considering density, hair angle and hair direction.
NeoGraft utilizes a newer transplant system called follicular unit extraction, or FUE, in which hair follicles are removed individually from the back of the head. Under this minimally invasive method there is little danger of scarring, bleeding, or nerve damage.
FUE performed "by hand" has been too time-consuming and expensive for widespread use. The NeoGraft system offers technological advances that can reduce the time and cost of transplants, making FUE more practical for both men and women of all ages.
About Shaft Medical San Diego
Shaft Medical San Diego specializes in the very latest advanced aesthetic medicine procedures.
As San Diego's leading provider of Automated FUE Hair Transplantation, the practice offers NeoGraft "No Linear Scar" Hair and Eyebrow Restoration, MiXto SX Micro Fractional Skin Resurfacing Laser for acne scars and skin rejuvenation, PureLight Cellulite Heliotherapy, Alma Accent XL Radio Frequency Laser for skin tightening, QuadraSculpt Liposuction Body Contouring Surgery, Prolite IPL Laser for hair removal and facial rejuvenation, Laviv Personal Skin Cell Cloning Therapy and NeoGraft LTS Cold Laser for acne and enhanced hair growth, as well as Botox, Dysport, Juvéderm, Radiesse, Latisse for eyelash growth, and varicose vein and spider vein treatment.
Shaft Medical's modern and highly discrete La Jolla office serves clients throughout Southern California including San Diego, Orange, Riverside and Los Angeles counties, and the Palm Springs area.
For more information about NeoGraft Automated FUE Hair Restoration San Diego and La Jolla, please see the Company's website at http://www.shaftmedical.com.