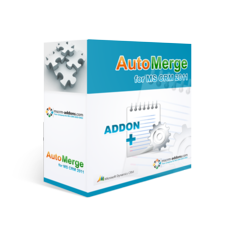 Our AutoMerge addon is a very supportive tool for an easy generation and management of documents based on CRM dialogs/workflows.
Graz, Austria (PRWEB) December 18, 2012
MSCRM-ADDONS.COM is an Austrian software company and a Microsoft Gold Certified Partner. The company develops and distributes addons for MS Dynamics CRM. The products enable users to extend their CRM with additional functionalities and hence to use MS Dynamics CRM more beneficially. AutoMerge provides the possibility to easily generate and process complex documents which include data from CRM. Besides a simple, fast and convenient document generation, AutoMerge also provides several useful document processing options. The creation and processing of documents can be executed very quickly in a one-click-scenario via a CRM-dialog or automatically via a CRM-workflow (e.g. when a certain CRM event occurs, such as the creation of a new contact).
The document generation is based on templates. Users do not need any programming knowledge for template creation as they just need to insert the CRM fields into MS Word using the Template Designer of MSCRM-ADDONS.COM's DocumentsCorePack addon. In case of not already using this product, customers will be provided with a license for the DocumentsCorePack Template Designer when purchasing AutoMerge. The templates can incorporate all CRM fields and standard as well as custom entities. Any CRM relationship can be resolved, tables can automatically be created (e.g. list of quote-products, contacts from an account, ..) and other documents or pictures from CRM can easily be inserted.
For the document processing, AutoMerge provides following workflow steps:

Print the document (the printer can be defined in the workflow/dialog)
Save the document in a SharePoint folder associated with the starting record
Attach the generated document to an email- or letter-activity
Send the email
With AutoMerge, users can create documents with the following formats: doc, docx, pdf, html, jpg, bmp, png, xps, ...
The addon is available for Microsoft Dynamics CRM On-Premise, hosted (IFD) and now also for CRM online. It supports Microsoft SharePoint 2010, 2013 and SharePoint online.
"Our AutoMerge addon is a very supportive tool as it enables users to create and manage complex documents with data from CRM easily and without any programming knowledge. Both, document generation and processing can be executed very quickly either in a one-click-scenario via dialogs or even automatically via workflows.", says Christian Ternek, Product Manager of MSCRM-ADDONS.COM.
About MSCRM-ADDONS.COM (http://www.mscrm-addons.com):
MSCRM-ADDONS.COM, a corporate sector of PTM EDV-Systeme GmbH, is a software company founded in 1998 and situated in Graz, Austria. The company is a Microsoft Gold Certified Partner and provides a high standard of knowledge, skills and commitment. It specialises in the development of diverse addons for Microsoft Dynamics CRM which could improve the benefit of using MS CRM. As a valuable addition to their products, the company provides technical support that distinguishes itself with quick and high qualitative answers and the willingness to always provide the best solution for the customers.
For more details about the current product portfolio/the current addons, please follow the link to the product page or contact Christian Ternek, Product Manager of MSCRM-ADDONS.COM.