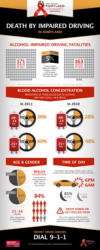 All of the men, women, and children who have lost their lives at the hands of an impaired driver are in our thoughts and prayers on this day of remembrance.
Annapolis, MD (PRWEB) December 12, 2012
Today, State Police Superintendent Colonel Marcus L. Brown, Acting Deputy Transportation Secretary Leif A. Dormsjo, Maryland Motor Vehicle Administrator John T. Kuo, other state leaders and members of the Maryland law enforcement community gathered with families of drunk driving victims in a somber ceremony at the Miller Senate Building. They participated in a solemn procession of victims' friends and family members carrying photos of their lost loves ones, followed by a candle-lighting ceremony as the victims' names were read aloud. The 9th annual Maryland Remembers event honors Marylanders killed by impaired drivers and encourages citizens to prevent further loss of life by calling 9-1-1 to report drunk drivers they see on the road.
"All of the men, women, and children who have lost their lives at the hands of an impaired driver are in our thoughts and prayers on this day of remembrance," Lt. Governor Anthony G. Brown said in a video message shown at the event. "They are the reason why we remain committed to implementing new legislation, expanding education, and increasing our law enforcement efforts. Today, we take a united stance, working together to let people know impaired driving will not be tolerated in Maryland."
In 2011, 171 fatalities occurred on Maryland roadways as a result of drunk driving, compared to 163 in 2010. Forty-eight percent of those killed in 2011 were between the ages of 21-34 years. Law enforcement agencies across the state will continue to dedicate additional resources to impaired driving enforcement throughout the remainder of the year, and citizens are reminded to report drunk driving: dial 9-1-1.
Representing police officers across Maryland, State Police Superintendent Colonel Brown told the families and friends of drunk driving victims that their loss is on the minds of state troopers, deputies, and police officers as they participate in special DUI patrols.
"Please know that law enforcement officers throughout our state are aware of the pain you endure because of the actions of a drunk driver," Colonel Brown said. "Like you, they have seen the deadly consequences of drunk driving and their experiences fuel their commitment to stop this crime, especially during the holiday season. In our effort to reduce violent crime, we have not forgotten that drunk driving crashes are also violent crimes that continue to occur far too often on our roads. Our commitment is to make Maryland safer and that includes our highways. Our warning to drivers is simple. Drive sober or get pulled over."
Guest speaker Cheryl Hammond, whose 19-year-old daughter Jessica Elaine Belknap was killed by a drunk driver last year, shared her personal story of loss.
"As I dedicated my life to Jessica when she was alive, I will continue to do so now," said Ms. Hammond. "Each and every day, I will honor her memory, her spirit, her light and sparkle and do all that I can to prevent the precious lives of others from being taken by this irresponsible, preventable act. That is how my daughter, her memory, her life, her love and her spirit will live on."
Today's event was sponsored by the National Highway Traffic Safety Administration and Maryland Motor Vehicle Administration's (MVA) Maryland Highway Safety Office (MHSO). For more information about this initiative, visit http://www.MarylandRemembers.com. The mission of the MHSO is to save lives and prevent injuries by reducing the number and severity of motor-vehicle crashes through a comprehensive and effective network of traffic safety programs. As the Governor's Highway Safety Representative, MVA Administrator Kuo provides leadership to MHSO and its safety programs and serves as the liaison between Governor Martin O'Malley and the highway safety community.
"During the holiday season and year-round, we urge everyone to take steps to make sure that you and those with whom you celebrate avoid driving under the influence of drugs or alcohol," said MVA Administrator Kuo. "Plan ahead. Always designate a non-drinking driver before any holiday party begins or take a taxi or public transportation to and from the party if you plan to drink alcohol."