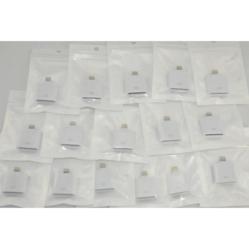 Adapter with audio function,along with charging and SYNC.
Shenzhen, China (PRWEB) December 13, 2012
Launch of Apple's eight pin connector has left many users frustrated mainly because they are holding a bunch of 30 pin accessories that otherwise would not work anymore.
Stepping up to bridge the technological gap, Esorun is ready with the Lightning to 30-pin adapter that supports audio functions and it would be released next week, much to the relief of those who had put out their accessories as not usable anymore.
The Lightning to 30-pin adapter is compatible with iPhone 5, iPod touch 5th generation, iPod Nano 5th generation, iPad 4th generation and also iPad Mini. And, even though there are many third party players in the market manufacturing these adapters, all of them do not support audio transmission.
This was another reason why so many users are unhappy with Apple's latest products because of the incompatibility of accessories previously bought. After intense research, one technology team has cracked the code for audio chips. Soon Esorun will be ready with new wholesale products.
For users, the 30-pin Lightning adapter by Esorun will work dually. On the one hand all old 30 pin accessories can be put to use again, and on the other it would come by at a much cheaper price than the original Apple adapter.
Preliminary estimates indicate that the Esorun 30-pin Lightning adapter would be priced at less than one fourth (25%) of the price than that of the original company adapter. Whereas the market price for the Apple 30-pin adapters without the cord is $ 29 and that with a 0.2 meter cord commands a price of $39, the price of an Esorun 30-pin Lightning adapter is expected to be less than $10.
Apart from the simple audio output, the 30 pin adapter also supports USB audio output, iPhone and iPod Sync, and also allows charging. This will certainly enhance the functionality of your accessories that too at a most affordable price. It will be an alternative choice to order cheaper OEM adapter from a third-party company for any organization and enterprise that need an adapter as promotion gift.
About the Shenzhen Esorun Technology Co. Ltd:
Esorun is a Shenzhen, China based professional technology company that manufacturers wireless hard drives, power banks, speakers, and a wide range of accessories for iPhones, iPads, and iPods. These accessories include Bluetooth speakers, external battery cases, luminous cable, and several other mobile accessories.