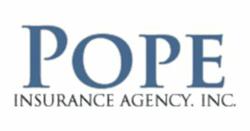 To ensure Massachusetts residents have a safe holiday, Pope Insurance Agency has a few decorating and fire safety tips to share.
Plainville, MA (PRWEB) December 12, 2012
Massachusetts insurance agency, Pope Insurance Agency, reminds residents of Massachusetts about fire safety during the holidays. As homeowners and renters decorate to get into the holiday spirit, Pope Insurance Agency provides tips to keep them safe and avoid renters or homeowners insurance claims.
Christmas, Christmas Eve and New Year's Day are the top three days of the year for candle fires. "Candles start about 11,600 fires each year, resulting in 150 deaths, 1,200 injuries and $173 million in property loss each year," according to the CPSC. In addition to this statistic, Christmas trees are involved in about 300 fires annually, resulting in 10 deaths, 30 injuries, and an average of more than $10 million in property loss and damage. Many do not realize how problematic decorations can truly be.
To ensure Massachusetts residents have a safe holiday, Pope Insurance Agency has a few decorating and fire safety tips to share:

Fake tree: Purchase an artificial tree that is labeled "fire resistant."
Real tree: Purchase a healthy tree and water each day to prevent it from drying out.
Real or fake, never place trees any closer than three feet from a heat source (fireplace, candle, heater, etc.)
Never place candles on a tree, real or fake.
Think twice about using real candles in all of the windows.
Never use lights on a metallic tree.
Do not overload wall sockets with numerous plugs.
Check all holiday lights for damages, such as cracked bulbs, broken bulbs, frayed cords, etc.
Before using lights outdoors, always check to make sure they are safe for outside use.
Always turn off holiday lights and candles before going to bed or leaving the house.
While these tips may reduce the risk of home fires, unexpected incidents could still occur. That's why the agents at Pope Insurance Agency provide comprehensive Massachusetts home insurance solutions at competitive rates. For more information, contact the agency by calling 800-935-1963, today. Happy Holidays!
About Pope Insurance Agency, Inc.:
Pope Insurance Agency, Inc. is a multi-line independent Massachusetts insurance agency located on the Plainville-North Attleboro line. Its insurance experts are ready to provide top-notch personal service and insurance solutions to the state of Massachusetts, whether to an individual in need of homeowners insurance or a business owner looking for affordable workers compensation insurance. The agency is also dedicated to providing vehicle owners with specialized coverage, from basic auto insurance to classic car coverage or even muscle car insurance. Pope Insurance Agency, Inc. is ready to serve, no matter what the situation may be.