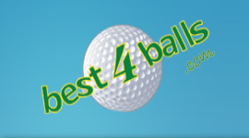 (PRWEB UK) 14 December 2012
Over the past few weeks, full scale diving expeditions have taken place in Donegal's Lough Salt Lake for a set of 20 golf balls from over a hundred years ago. These diving expeditions have taken place in order to search for the "Gutta Percha" golf balls struck in the lake by Old Tom Morris. So far, the expeditions have proved fruitless as the search goes on.
As the proverbial phrase goes, "It really is like looking for a needle in a haystack but if we find the golf balls it'll be well worth the effort," is what the lead diver, Gus O'Driscoll stated when asked about his teams efforts in the lake.
The initial search began last month in an effort to find what are considered to be some of the rarest golf balls in the world today, valued at up to £20,000 each! They have been lost in the bottom of Lough Salt for over 120 years, making them some of the most valuable hidden treasures in modern day Ireland.
Due to the tradition of golfers driving a few balls in to the lake as they leave, the divers have found thousands of golf balls so far. Although there are some interesting ones dating back to the 1940's and 50's, they've yet to uncover any of the Gutta Percha balls.
Council Pressing Divers To Cease Their Diving
Unfortunately, the Donegal County Council don't seem to share the same ambition of uncovering legendary golf artifacts as Gus and his team do. The council have officially asked Gus and his team to cease their search efforts for the Gutta Percha golf balls.
Despite the history and heritage that the search can uncover, the Donegal County council have asked the divers to stop as they believe it could be harmful to the Letterkenny water supply. Letterkenny is a large town nearby that relies on Lough Salt as a main water source.
The water in the lake is also considered to be of very high standard and the council don't want to risk this being tarnished by the efforts of the divers. The council take a prideful stance on environmental care which is why they are opposing the divers in their search.
Why The Balls Are In The Lake
Old Tom Morris was an excellent golfer and one that has been remembered and appreciated for over a century. He was a man of many talents with one of which being golf course design. It was Lord Leitrim that first brought Old Tom over from Scotland to design the Rosapenna golf course running through sand dunes. It was told that once the 18 hole course was finished, Old Tom Morris took to the Lough Salt lake and drove 20 of his own designed 1840's Gutta Percha balls in to the lake. Since then, not a single one has been found.
Who Old Tom Morris Was
Born in St Andrews, Scotland on 16th June 1821, Thomas Mitchell Morris was one of the most influential golfing names of all time. He was a fantastic player who managed to win four Opens during 1960, as well as helped to establish the British Open. He was involved in the design of multiple golf courses during his lifetime which changed the way golf courses were designed even to this day.
His playing career began when he was just 14, as an apprentice to Allan Robertson (regarded as the first professional golfer). After 9 years under Robertson, Old Tom began playing alongside him and it is widely believed that the team didn't lose a single match as their name as a team was "The invincibles". Morris moved to Prestwick when he was fired on the spot when caught playing a new guttie golf ball. Fortunately for him though, it was at Prestwick where his career really took off as he was involved and influential in the starting up The Open Championship in 1860, which he is credited for having the first ever shot in the competition.
His career was filled with success as an expert golfer. Winning multiple titles and being instantly recognised as the world's most famous golfer of his time, Old Tom never stopped his work. Even at 86, he was still a golfer. His death came when he fell down the stairs at the New Golf Club in St Andrews a month before his 87th birthday. He was buried at St Andrews Cathedral, where golf players from all over the world come to pay their respects.
Best 4 Balls
Best 4 Balls are a personalised golf ball supplier in England that has always ensured to understand their product's heritage. As soon as they heard about Old Tom and the search for his famous Golf Balls, they felt a need to cover the story. Best 4 Balls supply a wide range of golf balls and golfing gear that can be personalised to meet anyone's requirements. Maybe some of their personalised golf balls are in Lough Salt right now.