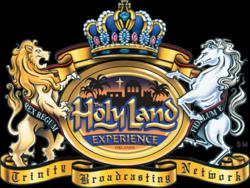 ... here at Holy Land Experience we pull out all the stops to make sure that our guests get a healthy dose of the true spirit of Christmas.
(PRWEB) December 12, 2012
Ever year Trinity Broadcasting Network's Holy Land Experience goes all out to celebrate the wondrous Christmas season, and this year is no exception. The folks at the Orlando, Florida-based family vacation and worship destination have trimmed every inch of the park with the warmth and cheer of America's most anticipated holiday, and have created some impacting programs guaranteed to make a lifetime of holiday memories.
"Christmas is a season tailor-made to touch the hearts of individuals of all ages," said Jan Crouch, president of Holy Land Experience. "And here at Holy Land Experience we pull out all the stops to make sure that our guests get a healthy dose of the true spirit of Christmas."
Designed to escort visitors back in time to experience the sights, sounds, and themes of First-Century Jerusalem — along with the impacting truths of Scripture — Holy Land Experience takes on a unique atmosphere during the holiday season. In addition to the thrill of walking the streets of a re-created ancient City of David, guests are treated to a variety of dramas, musicals, and presentations that make for a faith-filled Christmas experience unequaled anywhere. This year's exclusive live holiday shows at Holy Land Experience include:
– Christmas in the Third Century. This hilarious musical comedy tells the compelling story of St. Nichols, the Third Century bishop who learned the joy of giving. This unforgettable show, designed for kids of all ages, will give guests a light-hearted and impacting view of the early church they probably never knew existed.
– Sermon on the Mount. This poignant drama will offer guests an intimate moment with the Savior, bringing to life one of the most treasured accounts from the Gospels — the truths of the Beatitudes.
– Gloria. An all-new show debuting as part of Holy Land Experience's 2012 Christmas season, Gloria combines an explosion of music, light, singers, aerialists, and dancers to present the story of Jesus' miraculous birth in a fresh and exciting way.
In addition, throughout December Holy Land Experience will host a number of special inspirational programs at its Shofar Auditorium, featuring such nationally renowned pastors and teachers as Mark Chironna, Jonathan Miller, and Jonathan McKnight, and the anointed ministry of singers and recording artists like Wess Morgan, Javen, and Trent and Keisha Cory.
And on December 15th (7:00 p.m.), the park's state-of-the-art, 2,000-seat Church of All Nations will host a live edition of TBN's signature Praise the Lord program, featuring special musical guests Sandy Patti and Jason Crabb.
Jan Crouch noted that as always, throughout the Christmas season guests will be able to experience one of Holy Land Experience's most requested dramas, Behold the Lamb, a powerful and moving depiction of the death, burial, and miraculous resurrection of Jesus Christ. "Christmas is all about Christ coming to give His life for our salvation," she said, "and we want to keep that important message as the focus of all we do at Holy Land Experience. That's why the Christmas season is so important to us here, and why we've made it such a celebration."
For more information about Christmas at Holy Land Experience, visit http://www.holylandexperience.com.