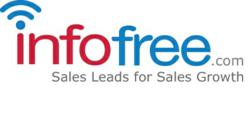 San Mateo, CA (PRWEB) December 12, 2012
infofree.com, the leading provider of unlimited sales leads and mailing lists for the low, flat price of only $49.95 per month, has just announced that one of its top searches this holiday season is its list of Millionaires. These prospects have the potential to become lucrative customers for businesses of all types.
In light of the recovering economy, there are now more than 5.1 million Americans who are worth in excess of $1 million. These consumers are in the market for thousands of consumer products and services, such as luxury apparel and accessories, travel, recreation, electronics, home décor and furnishings, specialty food and dining, and health and nutritional products. Additionally, these consumers may be interested in various financial services, political causes, or charity donations.
"Businesses in any industry can utilize our database of millionaire consumers who have an abundance of discretionary income. The possibilities are endless with this affluent group of consumers," says infofree.com President, Rakesh Gupta.
Subscribers of infofree.com can access the Millionaire's database, as well as the dozens of other specialty databases, for the flat price of only $49.95 per month. Coming soon, infofree.com will be unveiling its enhanced mapping features, a customer contact manager, and its database of 150 million cell phone numbers.
To try infofree, visit http://www.infofree.com or call 877-448-0101 for more information.
About Us: infofree.com™ is revolutionizing the sales lead and mailing list industry by providing unlimited search, view, and download of over 12 million business records, 200 million consumers, and hundreds of other specialty databases for the low, flat price of only $49.95 per month. Reach new homeowners, new movers, newlyweds, new businesses, and more!
The infofree.com content is compatible with the following platforms: Oracle CRM, Salesforce CRM, Microsoft CRM, Nutshell CRM, Goldmine CRM, Sage ACT! CRM, Highrise CRM, Zoho CRM, NetSuite CRM, SAP CRM, Constant Contact, RightNow Technologies, Responsys, Vertical Response, and Dun & Bradstreet.