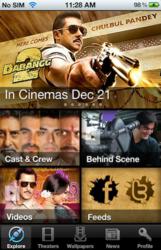 Official Dabangg 2 App To Access Greatest And The Best Movie Material Directly On Your Mobile!
Mumbai, India (PRWEB) December 14, 2012
One of the most awaited Bollywood movies of 2012; Dabangg 2 is scheduled for release on December 21. The movie is the sequel to the blockbuster movie Dabangg – rated amongst the biggest box office hit of all times in the Indian Film Industry. The film stars Salman Khan, who has given a string of hits for the last few years and is currently considered as the most bankable star in the Indian movie industry. The makers of Dabangg2 decided to reach out to the fans that love accessing Internet over their mobile phones to get all updates about the movie. They have developed an application, which will give their fans access to movie's HD wallpapers, videos, social media updates, list of theaters running Dabangg 2, etc. Fans can download this app for free from: http://www.arbaazkhanproductions.com
Dabangg, the first version of this franchise, was one of the biggest blockbusters in the Indian Film Industry. It established a number of records on the box office and found recognition through various awards including the prestigious National Award for Wholesome Entertainment. Carrying forward this successful franchise, Arbaaz Khan Productions came up with the sequel that has superstar Salman Khan reprising his role of Chulbul Pandey – a quick-witted, self-styled Robinhood cop who steals from the rich and gives it to the poor. Because of his larger-than-life personality, both on the screen and off it, Salman has a mass appeal across all sections of society and his attitude attracts his fans to his movie more than the technicality of the movie's plot. The huge fan following is absolutely crazy about him and his popularity can be gauged by the fact that his Official Facebook profile got 6 million likes in just a couple of weeks.
With the increasing appetite for latest news, people are accessing Internet on their mobiles. But it is a cumbersome process to screen through the unofficial muddle to access the factual and appropriate information. This also costs money and leaves fans frustrated while following their favorite topics. The Dabangg2 makers have realized this and have come up with a mobile app. Fans have to just download it on their Androids or iPhones and they will get all greatest and latest Dabangg2 content directly in their hands. All official news, behind-the-scene interviews, official Facebook and Twitter feeds, HD Wallpapers, Songs and Videos can be accessed through the app and also shared on the fans' social media accounts. Users can also find the nearest theaters playing the movie and the route to reach their preferred Cinemas. Options are also given for booking tickets, thus making it a complete mobile channel for Dabangg 2.
For downloading the app, please visit: http://www.arbaazkhanproductions.com/downloads/iphone-android-apps or the Official Dabangg 2 Mobile App on Google Play
The app has been developed in conjunction with premier Android & iPhone app development agency: SKI USA INC. A comprehensive Internet Marketing Agency, SKI USA INC provides all services required for carrying out wholesome promotion of offerings on the Internet. Services offered include SEO, SMO, PPC, Email Marketing, Development of Android and iPhone applications as well as Website Design and Development. For more information please visit: http://www.skiusainc.com.