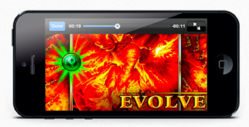 "We've been using AppTrailer to promote our GameFinder app in several countries. We are very satisfied with the results and have been positively surprised by the high user quality."
- Hitfox Group
SAN FRANCISCO (PRWEB) December 12, 2012
SponsorPay, the leading value-exchange advertising company, announced the launch of AppTrailer™, a new user acquisition product for iOS, Android and Facebook apps. AppTrailer™ engages users with a short video that showcases unique features and content of an app or game. At the video's completion, viewers are presented with a customizable download screen where they can directly install the game or app.
"Acquiring engaged users is priority number one for app developers and AppTrailer has proved to be very effective in this regard," said Janis Zech, CRO and co-founder of SponsorPay. "It provides users with the right amount of information they need to make a download decision followed by easy access to the game or application."
AppTrailer is already delivering impressive results. Install rates are consistently between two and six percent –substantially higher than other channels. Consequently, it is an incredibly cost-effective solution for application distribution.
"We've been using AppTrailer to promote our GameFinder app in several countries. We are very satisfied with the results and have been positively surprised by the high user quality," said Jan Beckers, CEO and founder at leading games distribution company builder Hitfox Group.
SponsorPay offers a self-service dashboard to set up an AppTrailer™ campaign within minutes for developers that have a YouTube video available. For app developers that haven't designed videos yet, SponsorPay offers a turnkey solution to create a trailer through a partner agency. The platform works as a bid-based system that gives developers the ability to adjust their bids in real-time and arrive at an effective cost per install (CPI) whilst simultaneously steering user volumes.
SponsorPay has hundreds of value-exchange platform integrations across apps on iOS, Android, Facebook and the web, establishing itself as a leading user acquisition and monetization solution. The launch of the new product comes on the heels of a strong third quarter in which the company extended its platform by establishing new key partnerships and continues its exceptional growth in the mobile sector.
###
About SponsorPay
SponsorPay is a value-exchange advertising platform providing high-quality brand engagement for advertisers and driving user acquisition as well as content monetization for publishers.
Our innovative BrandEngageTM solution offers rich user-initiated experiences for premium brands including social video and engagement campaigns. Our platform also delivers industry-leading results on direct response campaigns for performance advertisers. Simultaneously, we enable publishers and developers of social, mobile and online games and apps to monetize non-paying customers as well as acquire loyal users in a cost-effective manner.
We work with thousands of partners, including leading publishers Zynga, Electronic Arts, Ubisoft, Outfit7 and Animoca, as well as renowned advertisers Coca-Cola, Samsung, Microsoft, McDonald's and Volkswagen, across platforms such as Facebook, iOS and Android.
Investors include Team Europe, Hasso Plattner Ventures, Kite Ventures and Nokia Growth Partners. The company is headquartered in Berlin with offices in San Francisco, Los Angeles, New York, London, Paris, Istanbul and Tokyo.
For more information, visit http://www.SponsorPay.com or follow @SponsorPay on Twitter.
Contact Information
Projjol Banerjea
VP of Marketing & Talent
press(at)sponsorpay(dot)com
http://www.sponsorpay.com/press