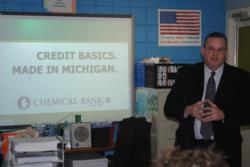 (PRWEB) December 26, 2012
They have given lessons on personal banking, checkbooks and savings. In the most recent class, Booher brought in a guest speaker, Michelle Thren, who is a fraud specialist with Chemical Bank. Her real-life examples and relevant discussions about their own future credit responsibilities had the teens very interested. Some of their comments included:
"The Chemical Bank classes are pretty awesome. I didn't know I could steal my own identity! They're teaching us how to prevent identity theft and about banking like accounts and writing checks."
Another student commented, "I didn't know how many different ways there were to have your identity stolen. As far as credit goes, I didn't know important it was. I just thought as long as I paid it back, everything would be ok. I didn't know credit companies target my age group."
"It's amazing that they take time out of their schedule to come in and teach us about all of this because they really don't have to."
Booher shared his thoughts on their volunteer efforts, "Knowledge is very powerful and given they will go out in the real world soon, hopefully they will put some of these lessons into place. I know that I am very interested in continuing this partnership with Eagle Village and hopefully helping these young people get a good start when they leave the program."
Passages is a continuation of the residential program at Eagle Village and prepares teens for the next chapter in their lives. Participants work on daily life skills training, goal-setting, high school or GED finalization plans, healthy peer relationships, personal finances and managing their own health.
Eagle Village is a non-profit family treatment center providing Intervention Services, Residential Treatment, Foster Care and Adoption services for all counties in Michigan. If you know of a family in crisis that may benefit from these programs contact Eagle Village at 231-832-2234 http://www.eaglevillage.org