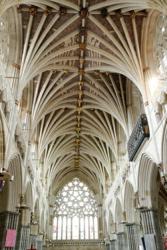 The growing number of company registrations in Exeter is a testament to the city's resilience in the face of tough economic conditions
UK (PRWEB UK) 15 December 2012
Exeter: According to the Duport Business Confidence Report, the third quarter of the year saw 232 new companies formed in Exeter, representing a 25% rise on the same period in 2011.
Exeter is significantly ahead of the UK average increase in company formations, which stands at just 4%.
In 2008, the local authority put together an Economic Development Strategy for Exeter, set to run for five years. Aims of the strategy included providing the right environment for business and creating a culture of enterprise. As the scheme approaches its final year, high company formation numbers suggest the council's plans may have worked.
Managing Director of Duport.co.uk, Peter Valaitis said:
"The growing number of company registrations in Exeter is a testament to the city's resilience in the face of tough economic conditions."
"Our report does show a dip in company formation at the height of the recession in 2008, but careful management by the local council has helped protect Exeter from the worst effects of the economic downturn."
The Duport Business Confidence Report uses a range of data to highlight the economic conditions in Exeter, including statistics on company closures and business naming trends. More information can be found at http://www.duport.co.uk/exeter.
Duport Business Confidence Reports are generated and released by Duport Associates Ltd. The data contained in these reports is assimilated and analysed by Duport using public record data from sources including Companies House, Office for National Statistics and Ordnance Survey. Duport Associates Ltd is a leading UK company formation agent, established in 1997 and registering around 10,000 new companies each year through its Companies House approved software.