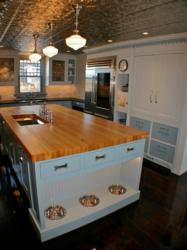 The hottest new kitchen cabinet trend for 2013
Asheville, NC (PRWEB) December 12, 2012
For pet lovers of all kind, the newest trend in custom kitchen cabinet design is a built in pet feeding station. These stations are the hottest new trend for 2013. Kitchen designers are placing these feeding stations in the island or end of cabinets.
This modern day convenience offers the pet owner a stylish way to feed their pet and store food and other products. Appealing to all homeowners with a four legged friend, these kitchen cabinets or islands are produced in custom design. This kitchen island will not be ordered from a big box store like Lowes or Home Depot.
To find a custom cabinet line to suit your needs, visit your local home design center.
About HomeSource Design Center
The HomeSource Design Center incorporates the entire home building and remodeling process all in one convenient location; providing you with a team of experts to guide you through the process: home improvement, new construction and remodeling products; kitchen and bath design; and all your construction and landscaping needs. Located off of Charlotte Street in Asheville, support your local source for all your home remodeling or construction products.