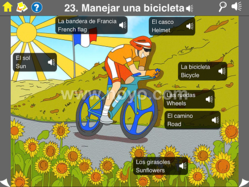 "Our language apps are a great supplemental tool for teachers to help to bring French to life in and out of the classroom" said Ted Chan, Noyo's CEO.
Boston, Ma (PRWEB) December 24, 2012
Noyo, a Boston based educational software company, is excited to announce the availability of its iPad French learning app, designed to teach French vocabulary to novice students ages four and up. With lively graphics, amusing storylines, and enthusiastic voice-over by a native speaker, the Noyo French app for kids is designed to systematically boost the vocabulary of young students through a fun and engaging interface.
Noyo's attractive, interactive platform features nearly 200 custom-illustrated scenes. Packed with vocabulary words voiced by a native speaker, and featuring built in assessment questions, this educational app is designed to help students learn over 1,800 French vocabulary words and phrases.
"French was one of the most requested languages from teachers around the country," said co-creator Mike Sullivan, who serves as Chief Learning Officer. "We are glad to add French to the Noyo platform and encouarge French teachers to get in touch for a free promo code for the app."
Noyo French an innovative departure from typical flashcards, takes young learners on a virtual journey through a colorful landscape of exciting scenes. The French curriculum introduces words and phrases in context and the highly visual delivery of the material makes remembering new vocabulary easy.
"Noyo brings something new to the educational app marketplace," said Ted Chan, Noyo's CEO. "Our language apps are a great supplemental tool for teachers to help to bring French to life in and out of the classroom."
Noyo links up nearly two thousand vocabulary words to entertaining images and high-quality audio in order to provide a strong educational foundation for language learning. An experienced team of graphic design artists brings vocabulary to life with comical characters and amusing scenarios that will be loved by children of all ages.
Noyo is French is a great language app for children with 10 targeted vocabulary units, each with its own set of assessment questions for maximally effective learning.
Features of the Noyo Spanish iPad app for kids:
-Over 1800 vocabulary words, each reinforced by supporting audio, visual representation, and written translation
-194 top-quality, custom-illustrated scenes, packed with friendly characters and amusing scenarios for kids of all ages
-Audio by a professional voice artist who is a native Spanish speaker
-10 targeted units (Food, Travel, Restaurant, Transportation, City, House & Home, Seasons, Animals, Schools, Sports)
-Built-in assessment questions at the end of each unit to reinforce learning
-Highly visual intuitive, user-friendly navigation system
-Content designed for self-study for new language learners of all ages, for parents to use with young children, and for teachers to use in the classroom
-Available in French, Spanish, Chinese, Portuguese and ESL with Hebrew in the pipeline.
Noyo is headquartered in Boston, MA. It is dedicated to providing engaging, cost-effective, high-value supplemental learning tools to language learners of all ages. More information can be found at http://www.noyo.com.