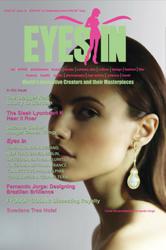 A beautiful combination of investigative reporting and photography
New York, NY (PRWEB) December 13, 2012
EYES IN™ Magazine releases issue 14 of its innovative digital publication featuring compelling stories of the world's top creators and their masterpieces. A beautiful combination of investigative reporting and photography, the latest issue will dazzle readers with its innovative stance on storytelling.
Issue 14 spotlight features include:
The Stagger Rats, hailed as Anne Hathaway's favorite band, is taking over the U.K. with their tight and harmonious sound. Based out of Edinburgh, the band is getting ready for world domination. EYES IN™ Magazine features an in-depth expose of the band and their future pursuits.
EYES IN™ chronicles the life and times of photographer David LaChapelle, the American photographer known for his aesthetically beautiful work that infuses social messages and artistic manipulations of reality.
ImaGem scored an investigative piece in the magazine about its highly influential fingerprinting technology to identify diamonds and gems as an innovative way to prevent loss and fraud of the world's most precious stones.
Suzanne Collins, author of the popular book series "The Hunger Games" delves into the story arc of the now infamous book turned blockbuster movie.
EYES IN™ releases digital publications once per month via the EYES IN™ app on the Apple Newsstand as well as on the Amazon Kindle, Google Play, and Barnes & Noble Nook. The company also sells printed books via CreateSpace and Lulu.com.
For media, self-publishing, sponsorship or advertising inquiries, please contact Desiree Frieson or Vivian Van Dijk at press(at)eyesin(dot)com. To learn more about EYES IN™ visit http://www.eyesin.com.
About EYES IN™ Corp:
As a publisher of the world's innovative creators and their masterpieces, EYES IN™ spotlights innovation in fields of architecture, art, artists, beauty, books, culinary arts, culture, design, fashion, film, finance, health, music, photography, real estate, science, technology and travel. It's a must read for anyone who wants to stay informed on global trends, upcoming and celebrity creators in these areas. EYES IN™ delivers a state-of-the-art visual experience into the minds and works of the most stunning creators.