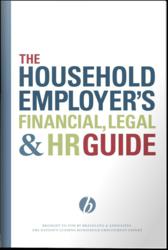 It's a lot cheaper and easier to take care of your obligations now than it will be down the road.
AUSTIN, Texas (PRWEB) December 17, 2012
With the end of the year quickly approaching, many families are preparing for the 2012 tax season. A commonly overlooked item is employment tax returns for a household employee, also known as the "nanny tax." Breedlove & Associates, the nation's leading household employment payroll and tax service, reminds families with household employees -- nannies, housekeepers, senior care providers, personal assistants, etc. -- that now is the time to take care of 2012 "nanny tax" obligations.
"People get busy and often forget to take care of everything properly at the time of hire," said Stephanie Breedlove, founder of Breedlove & Associates. "Others assume it's okay to drop it on the accountant right before April 15th."
Either of those scenarios leaves the family and their employee vulnerable. "Parents can find themselves facing large penalties and problems from the state and IRS," explains Breedlove. "Meanwhile, the employee does not get the financial protections other workers get, such as unemployment, Social Security, Medicare, disability, etc. All of those benefits are funded by the payroll process."
The good news is the tax year is not over yet. If you had a household employee during 2012 and want to get her on the books, you still have time. Breedlove & Associates handles all state and federal employment tax filings for busy families, including late returns for wages paid in earlier quarters of 2012.
"Late returns trigger state penalties, but we've had very good success getting those penalties waived on behalf of our clients," said Breedlove. "Making a formal plea and corresponding with the tax agencies is a standard part of our service for families with wages in prior quarters."
Other year-end "nanny tax" forms require the family's attention, such as preparing the employee's Form W-2, filing Form W-2A/W-3 with the Social Security Administration (so the employee can get her retirement benefits) and preparing Schedule H, which gets filed with the family's federal income tax return (Form 1040).
Breedlove summed it up this way: "If you don't want potential tax and legal issues hanging over your head, it's a lot cheaper and easier to take care of your obligations now than it will be down the road."
To learn more about the legal requirements of being a household employer, visit the Answers page at http://www.MyBreedlove.com.
About Breedlove & Associates:
Since 1992, Breedlove & Associates has helped busy families manage the tax, legal and HR aspects of being a household employer. Breedlove & Associates was created by families for families, and is dedicated to serving them as they take on the obligations of a household employer. We have served more than 20,000 families in all 50 states and are the industry's foremost experts in household employment compliance. To learn more about Breedlove's no-work, no worry solution to paydays, tax time and all points in between, visit http://www.mybreedlove.com.