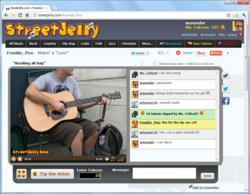 Being a full time musician I am broke as hell, and this is all I can do!
Nashville, TN (PRWEB) December 17, 2012
New website StreetJelly.com allows anyone to perform like a street musician on the internet. Musicians, singer / songwriters, vocalists, and all types play for tip money with a computer and webcam. Viewers donate virtual tokens as tips to the artists they purchase on the site. StreetJelly cashes out the tokens for real money sent to the performers through Paypal. But musicians have taken this concept of making money for themselves one step further. They are using StreetJelly as a fundraising tool for their favorite charities.
Self-employed musician Meia Borden of Dallas, TX feels strongly about helping others.
"Obviously, being a full time musician I am broke as hell, and this is all I can do," she says about performing for tips she's donating to a family in need. Meia is using her gift of a soulful, leathery voice and her webcam to spread a little joy to children in an unsafe environment and tough situation. With her big heart and a little ingenuity, she is performing live webcam shows on the website all month to raise money.
Drummer, entrepreneur, and organizer Vinny Ribas of Nashville, TN uses his big heart to help independent musicians. Through his web of connections, Vinny has created the organization Indie Connect to assist, coach, and mentor musicians into building a sustainable craft. His cadre of musicians spread the joy and love of music worldwide, but help those close to home. They also have turned to StreetJelly to broadcast live concerts from their community studio in Nashville. Proceeds from their last house concert by Tiffany Shea were used for a local holiday toy drive.
There's nothing new about a benefit concert to raise money for a worthy cause. Musicians have always been donating their time and skill to entertain the masses and help the less fortunate. But it's hard for any one individual to manage the logistical masterpiece of pulling off a full scale concert. With StreetJelly's micro-donation system, any musician can hop online anytime with their webcam, perform, and instantly start raising funds for their favorite charity.
About Street Jelly Media, Inc.: Street Jelly Media, Inc. was founded in July 2012 in Nashville, TN to create the live music portal StreetJelly.com. It is online busking: being a street musician on the internet. StreetJelly streams live performances only. No recordings, no mp3s, and no videos are allowed. It's all spontaneous live music, all the time.