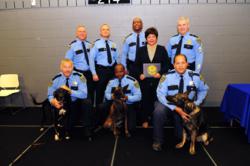 "K9s4COPs is honored to have been selected for this award by the Houston Police Department." -- Liz Lara- Carreno, Executive Director
Houston, TX (PRWEB) December 13, 2012
K9s4COPs is proud to announce that its founder, Kristi Schiller and executive director, Liz Lara- Carreno have been awarded the Houston Police Department's Humanitarian Service Award in recognition for their organization's generous gift of three K-9s to the Houston Police Department.
K-9 Brody, K-9 Hyro, and K-9 Moja joined the Houston Police Department K-9 Unit in February 2012.
The award ceremony, which gave special recognition to 71 award recipients whose actions as officers and citizens went above and beyond their calls of duty, was held at the L.D. Morrison Houston Police Training Academy on December 4th.
Lara-Carreno stated, "K9s4COPs is honored to have been selected for this award by the Houston Police Department. We are committed to supporting law enforcement agencies' K-9 Units in our city and across the nation."
Founded in 2010, K9s4COPs' mission is to purchase and place highly trained K-9s with thoroughly screened law enforcement agencies across the United States that are facing budget cuts. At an average cost between $10,000 and $15,000 each, financial constraints make it virtually impossible for them to purchase K-9s. To date, K9s4COPs has placed 23 K-9s in Texas and across the United States, and applications continue to pour in. For more information on K9s4COPs or to donate funds, please visit http://www.k9s4cops.org.