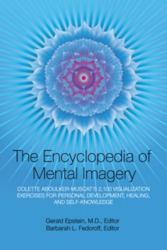 My teachings aim to encourage and preserve your freedom.
New York, NY (PRWEB) December 18, 2012
Psychiatrist, teacher and author Gerald N. Epstein, MD, considered one of the world's foremost practitioners of integrative healthcare and author of the classic work on mental imagery Healing Visualizations, has devoted his life's work to researching, teaching and successfully applying mental imagery techniques to help patients make wise choices, create beneficial change and improve health. Now, in a single collection, he brings together over 2,100 visualization exercises developed by his teacher of many years, the renowned 20th century healer and mental imagery practitioner, Mme. Colette Aboulker-Muscat.
The Encyclopedia of Mental Imagery, Epstein's most recent book, draws from the work of Mme. Colette who taught the practice of mental imagery–more commonly known as guided imagery or visualization–from her home in Israel until her death a decade ago at age 94. Simply put, mental imagery comprises what we see, sense, feel, live and know. It is the mind speaking to us in pictures. With over 2,100 exercises, The Encyclopedia of Mental Imagery guides the reader through a personal pilgrimage of self-discovery with clear step-by-step instructions on how to practice mental imagery, how to establish a daily imagery practice, and a checklist for getting started.
Practiced for thousands of years by healers of many cultures, mental imagery remains on the periphery of medical treatments in Western society. Yet research, including Epstein's own conducted under the auspices of the National Institutes of Health, supports the effectiveness of mental imagery in the treatment of both physical and emotional problems. Epstein's techniques have been widely used by other clinicians in a variety of settings, including hospital oncology wards, state prisons, substance abuse centers, childhood development programs and in the arts.
"Mental imagery is the natural language of the mind, speaking only in the now," says Epstein. "It gives us true information, and reveals all we need to know about ourselves and our lives. The beauty of these visualization exercises is that they are simple, powerful, and quick, taking from seconds to a minutes. My patients who practice these exercises make new personal discoveries and see their own behaviors in a new light, resulting in a real physical, mental and emotional transformation." And the results can be immediate.
For individuals, therapists, healthcare professionals and many others, the visualization exercises in The Encyclopedia of Mental Imagery offer an invaluable resource for health, personal development, self-knowledge, stress reduction, and general well-being.
Co-edited with Barbarah L. Federoff. Available in original trade paperback from online retailers and bookstores nationwide.
# # #
ABOUT GERALD EPSTEIN, M.D.
Dr. Gerald N. Epstein is one of the world's foremost practitioners of Integrative Medicine. Founder and Director of the American Institute for Mental Imagery, a non-profit training/educational institution in New York City offering certificate of completion to physicians and other health professionals. He is the author of seven books, including the classic work on mental imagery Healing Visualizations, translated into 13 languages, published in 15 countries, and now in its 21st printing in English. Dr. Epstein has taught students at Columbia University's College of Physicians and Surgeons and Mt. Sinai Medical Center where he is Assistant Clinical Professor of Psychiatry. For more information visit DrJerryEpstein.org.
ABOUT THE BOOK
The Encyclopedia of Mental Imagery
Gerald Epstein, M.D.
ACMI Press: December 2012
Original trade paperback 243 pp
ISBN 9781883148102
U.S. $35.00