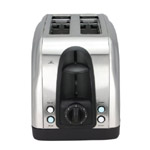 Atlanta, Georgia (PRWEB) December 13, 2012
10rate editors Brittany Rowland and John E. Moore cut through all the choices out there in the kitchen appliance category to come up with their top choices. According to the Best 2-Slice Toaster page at 10rate.com they selected their top choices based on the following criteria:
1. Even toasting
2. Adjustable toast level to achieve perfect toast
3. Speed the toaster heats up
4. Look and design of the toaster
5. Cleaning ease
6. Price
Hamilton Beach, Proctor Silex, and Chefman all had highly rated 2-slice toasters according to the reviewers. Editors said, "The Hamilton Beach Perfect Toast 2-Slice Toaster has one long slot that holds 2 slices of toast or long homemade bread slices. The controls are on the long side, giving this toaster a cool, modern look. The keep warm setting conveniently holds the bread inside until you're ready to retrieve it," when reviewing the Hamilton Beach Perfect Toast model.
Editors also evaluated and selected the Best 4-Slice Toaster based on the following:
1. Even toasting
2. Adjustable heating levels to achieve perfect toast
3. Ease of getting toast in and out of the slots
4. How fast the toaster heats and toasts
5. Design of the toaster
6. How easy it is to clean
7. Price
According to reviewers Black & Decker, T-Fal, and Breville figured prominently in the rankings. When reviewing the Black & Decker toaster, editors noted some of the highlights. "The Black & Decker TR1400SB comes in a stylish brushed stainless steel housing with black accents. The controls are labeled with icons indicating the bagel, defrost, reheat, and cancel settings. Handy features include a retractable power cord for easy storage and an auto-eject removable crumb tray."
Lastly, editors chose the Best Cooktop with Bosch, Electrolux, and Whirlpool all being selected according the the Top 10 list. The Bosch cooktop provides "five sealed burners for multi-purpose cooking. Whether you need to bring water to a boil quickly or let a sauce simmer at a low, even temperature, you can do it on these stainless steel burners. Cleaning up is easy, too, with a recessed surface that contains drips and spills."
10rate.com conducts reviews in various product and services categories and publishes "Expert Top 10 Lists for Everything in your life." The company's web site strives to "Make it Easy" to select from the hundreds of choices there are in the product and service market place. All products and services are thoroughly researched by the companies expert editors prior to receiving a rating on a 1-10 scale. In addition to product reviews the companies editors write guidelines, buying guides and articles on various topics surrounding each product or service category covered to help educate the consumer.