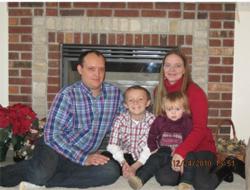 He just gets so tired so easily. It's just hard to see him not like himself
ST. PETERS, Mo. (PRWEB) December 15, 2012
Holidays are the times where people need others help and support the most.
For Kenny Ravenscraft and his family, the support he could receive this holiday could save his life.
Kenny has been diagnosed with kidney failure, and right now, two weeks before Christmas, his kidneys are only operating at 6 percent.
Kenny and his family are currently seeking Kidney donations or money donations through the website http://www.kennyravenscraft.org to help with the cost of not only his kidney transplant, which he is currently on a waiting list that could range from six months to two years, but dialysis treatment he attends multiple times a week.
It's a sad tale for Kenny, a husband and father of two young children. He was diagnosed with kidney disease in early 2006 and had to attend dialysis around three times a week. But during that summer, on his mother's birthday, he was informed that his kidneys made a recovery and he didn't have to return to dialysis. Kenny was back to his old self, enjoying the outdoors and getting through a full work day, but recently things took a sudden change for the worst.
Kenny's kidney problems returned and now they are only working at only 6 percent, which puts him back in dialysis. Medical bills are piling up and his health insurance is now over $475 a month. Because his health insurance costs are so high, the rest of his family can't afford to be on his insurance and are currently uninsured. What's even worse, Kenny is unable to work and provide for his family during this year's holiday season.
His mother, Kay, has set up a donation's link to help Kenny, whose blood type is O-positive, to try and get through this difficult time.
"He just gets so tired so easily," his mother Kay said. "It's just hard to see him not like himself."
Consider donating money or even being an organ donor this holiday season or for the New Year. It will be the best gift someone will ever receive.
About http://www.kennyravenscraft.org/: This site is devoted to Kenny Ravenscraft, who is in need of a kidney donation as both his kidneys are suffering from kidney failure. Organ donors or those who have extra money and want to share a donation, consider giving this holiday season. Anything is appreciated and goes directly to Kenny's medical expenses. Kenny's blood type is O-positive. Visit http://www.kennyravenscraft.org/ to make a donation.