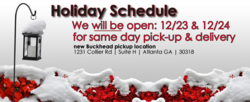 Atlanta, GA (PRWEB) December 14, 2012
Peachtree Petals, a recognized leading Atlanta florist and Master Florist, announces their holiday schedule and will be open and fully operational on 12/23 and 12/24. The announcement comes in an effort to inform their current client base and market their premium flower arrangements to new customers seeking flowers and other gifts right before Christmas. The floral company desires to be the best choice for Christmas flowers and holiday flowers nationwide.
Peachtree Petals has the announcement marketed on the home page of their website. Their holiday schedule involves December 23rd, which is a Sunday and Christmas Eve, December 24th, which is Monday. On both days the flower shop will be open for customers to either pick up their orders or have it delivered the same day. Peachtree Petals expects with their aggressive availability, they will gain a broader market exposure and increase sales, especially in-store. Many customers will not be working both days, resulting in greater probability they will visit the store and pick up their flowers.
Peachtree Petals is offering incentives for customers to pick up at their floral arrangements. There is a $10 discount for all pick up orders, which is attractive to those seeking to save money to purchase other gifts. The Atlanta florist also is offering the Christmas Centerpiece Sale for $19.99. These are custom-designed Christmas centerpieces available at sale price for pick-up only. The centerpiece sale lasts until December 31st.
Free same-day delivery of all their floral arrangements is standard for the premium florist and will not change during the holiday season. Peachtree Petals provide same-day delivery to within the Atlanta and Metro-Atlanta areas.
Peachtree Petals is a leader in quality floral arrangement and floral décor services. From floral arrangements to wedding bouquets, Peachtree Petals does it all. Their floral designers have over 50 years of experience and create superior floral bouquets. Headquartered in Atlanta, Georgia, Peachtree Petals services a growing list of individual customers, businesses, and corporate clients nationwide.