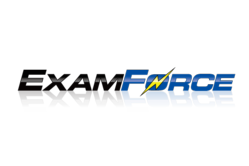 Largo, FL (PRWEB) December 18, 2012
Oracle databases are widely used in many different industries across the world. The Oracle Database 11g is an extension of their ability to deliver benefits of grid computing with more self-management and automation. According to Forbes Global 2000 Oracle is the second largest independent software company in the world and has established high-demand for professionals who hold their certifications. Professionals seeking their Oracle Certified Associate (OCA) certification must complete two exams; 1Z0-051 Oracle Database 11g: SQL Fundamentals I and the 1Z0-052 Oracle Database 11g: Administration I. The addition of the 1Z0-052 Oracle Database 11g Administration I to ExamForce's vast library of test preparation exemplifies their commitment to providing quality exam content to database professionals worldwide.
ExamForce's triple testing methodology is included with every practice exam. The Oracle 1Z0-052 11g Administrator, Certified Associate also includes the Sybex® OCA Oracle Database 11g Administrator Certified Associate electronic study guide and 408 practice questions with exam quality simulations to test your endurance for the upcoming exam.
The CramMaster practice exam software covers all 17 vendor specified exam objectives including; Exploring the Oracle Database Architecture, Preparing the Database Environment, Creating an Oracle Database, Managing the Oracle Instance, Configuring the Oracle Network, Managing Database Storage Structures, Administering User Security, Managing Data Concurrency, Managing Undo Data, Implementing Oracle Database Security, Database Maintenance, Performance Management, Intelligent Infrastructure Enhancements, Backup and Recovery Concepts, Performing Database Backups, Performance Database Recovery, Moving Data.
About Sybex®
For over 30 years, Sybex has published premium learning products and solutions for current and aspiring professionals working with cutting edge technologies. Our customers come from every corner of the globe and work in a variety of industries, but they all have one thing in common—the drive to acquire the serious technical skills needed to excel in a competitive marketplace. Wherever you are in your career, Sybex can help you achieve your goals. For more information, visit sybex.com. Sybex is an imprint of Wiley.
About ExamForce
A division of LearnForce Partners LLC, ExamForce was founded in 1999 to assist individuals and organizations with preparing for and passing IT certification exams. Since our inception, our industry recognized materials have assisted countless people in growing their knowledge and advancing their careers. ExamForce develops and sells training and practice test software, audio preparation programs, study guides and flash cards for the Information Technology, Financial and Trade marketplaces.