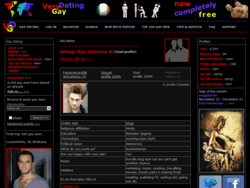 Gay Dating With a Soul
(PRWEB) December 14, 2012
Dating Website Makes Meeting Gay Men A Soulful Experience
Since its launch, Very Gay Dating has signed up nearly 5,000 gay men who are looking for love, fun or friendship. The owner of this clever dating website wanted to ensure that men had a place to meet like minded men completely free, without any catches! The first features to be launched were a unique rating system and the ability to connect with gay men in English speaking countries. Since then, Very Gay Dating has gone one step further.
Introducing Soul Profiles...
The launch of this new profile feature has other gay dating websites shaking in their boots, for the idea is completely genius. Instead of just filling out a general 'about me' page, those interested in finding love, friendship or a bit of fun can fill in a Soul Profile instead. The questions make it a lot easier for singles to tell other singles more about themselves, without the awkward stumbling block of trying to write a whole paragraph that sums them up. This ensures that it is a lot easier to find gay men that are interested in the same things, or have the same passions.
Meet Gay Men With Similar Personalities...
Everybody that has tried to find the perfect gay man for them can admit to having several dating failures. This is mainly because it is almost impossible to know what someone is like until they have met up. With Soul Profiles, questions are asked that will give the user an insight into that person's life, personality and even their favorite things. Separated into four different sections, each Very Gay Dating profile is now so in-depth that gay men meeting for the first time will feel like they have known each other for years. There are the basics of education, job and hobbies which most dating sites will have. Then it gets into more detail with the 'coming out' section which asks a user who knows about their sexuality and their likes or dislikes in another man. Next is 'leisure and pleasure' which gives an insight into where that person likes to hang out and their attitude to friendship. Finally, 'my favorite' which goes into more detail about music, movies and even how that person feels about charities and defending the weak!
Making It Easier To Find A Soul Mate...
The introduction of these new 'Soul Profiles' makes it even easier for gay men to find their soul mate. Users can scan through a soul profile and decide if what they read appeals to them, or whether it is time to carry on searching. This feature completely eradicates that awkward first date and gives those meeting for the first time plenty to talk about. Even if that person is looking for a bit of flirty fun, or a serious relationship, it enables gay men to find common ground and interests.
The launch of Soul Profiles on Very Gay Dating is an extremely exciting step forward for the world of dating websites. The website is also still completely free, meaning that nobody has to pay for the privilege of finding their soul mate!
More information can be found online at VeryGayDating.com