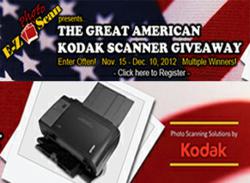 The PS50 is revolutionizing the digital scanning process, saving users time and money.
ALTAMONTE SPRINGS, Florida, (PRWEB) December 12, 2012
After receiving more than 11,000 entries in the Great American Kodak Scanner Giveaway Contest, EZPhotoScan.com has announced the names of two lucky winners chosen to receive a Kodak PS50 high speed Scanner.
David Boles of Melbourne, Florida and Jim Sparks of Knoxville, Tennessee were named today to receive a professional grade, high speed scanner through E-Z Photo Scan of Altamonte Springs. Both winners' names were selected in a random drawing facilitated by American Sweepstakes, an independent promotional marketing and sweepstakes firm based in Rochester, New York.
A total of 11,722 entries came in from contestants in 2,667 cities in 49 states, all hoping to win a state-of-the-art Kodak photo scanner for their home hobby projects, photo archiving, or office. Contestants were able to submit one entry every 24 hours since the contest launched November 15; according to E-Z Photo Scan founder and owner Richard Lippert, three people registered every single day of the contest.
The Kodak PS50 scanner is the perfect tool for scrap booking and creating permanent digital files of family photos and important documents. E-book writers and self-publishers, designers, and collectors of photo and historic ephemera also turn to the PS50 for its high quality, high speed abilities to make any task fast, easy and enjoyable.
Capable of scanning up to 50 images per minute at 300 DPI, the PS50 is revolutionizing the digital scanning process, saving users time and money. The photo separation module protects delicate photos, so anyone can scan hundreds of photos in a short time period and create a permanent, high resolution digital copy of each. The PS50 offers a better alternative to keeping high volumes of paper photos stashed in boxes, drawers and closets where they're susceptible to damage.
The Kodak PS50 scanner makes it easier than ever to transform a lifetime of photographs and treasured memories into high-quality digital files so they can be preserved, shared, and displayed in exciting new ways.
The PS50 is the result of Kodak's ongoing commitment to producing a streak-free, high-speed photo scanner that incorporates features customers demand.
"We want to congratulate our two winners, and thank everyone who submitted an entry to the give-away," says EZPhotoScan.com founder and owner Richard Lippert. "We are committed to helping every one of our customers gain access to the best scanning tools they need for their individual projects, and we plan to offer more sweepstakes and special pricing on the highest quality scanners and equipment throughout 2013."
Lippert extended the company's gratitude to all contest entrants by offering each $100 off the purchase of a PS50 photo scanner from EZPhotoScan.com, plus a free Kodak flatbed accessory (valued at more than $900), a $2,495 value for a total cost of only $1,569.
Both grand prize winners were selected in a random drawing from among all eligible entries received. Odds of winning are based on the total number of eligible entries received throughout the sweepstakes period.
The Great American Kodak Scanner Giveaway Contest is sponsored by i/o Trak, Inc./E-Z Photo Scan and administered by American Sweepstakes & Promotion Company, 300 State St. Suite 402 Rochester, NY 14614.
The sweepstakes began at 12:00:01 a.m. Eastern Standard Time (EST) on November 15, 2012 and ended at 11:59:59 p.m. EST on December 10, 2012.
The two (2) Grand Prize winners each received a Kodak Picture Saver Scanner Model PS 50 with an approximate retail value of $2,195, making the total prize pool is $4,390.
For more information or to sign up to be included in the free drawing, go to EZPhotoScan.com, or the EZPhoto.com Facebook page.
For more information on special value pricing for Kodak high volume, high speed photo scanners, visit the EZPhotoScan.com website, call 1-866-562-4660, or Email info(at)EZPhotoScan(dot)com.
About EZPhotoScan.com:
Founded by owner Richard Lippert in 1995, EZPhotoScan.com has turned the task of managing documents into an art form. The EZPhotoScan.com group was formed to offer best-in-class solutions for scanning pictures, printed memories, and sensitive documents.
EZPhotoScan.com provides full service assistance to individuals looking to do their own scanning, have it done for them, or start their own conversion service.
###