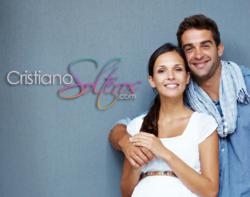 We pride ourselves on being one of the safest dating sites on the Internet
(PRWEB) December 14, 2012
In an effort to offer Latin singles of all income levels and backgrounds the opportunity to find long-lasting love online, Latin chat website CristianoSolteros.com has announced an introductory membership rate of $19.95 per month. According to company representatives, the website's new membership price is considerably lower than that of other Latin dating websites on the web, making it a viable option for all Latin singles.
CristianoSolteros.com, which has up to this point been offering free limited-time memberships, will now be offering paid memberships with more functionality and features. Latin singles that sign up for a paid membership will have access to instant messaging, secure emailing, saved searches, Latin chat, and a slew of other convenient, relationship-building features.
According to company representative Maggie Danhieux, the website's introductory rate is intended to provide Latin singles an affordable way to meet potential partners from all over the world.
"We at CristianoSolteros.com understand how hard it can be to find a long-term partner," said Danhieux. "We wanted to offer Latin singles an easier way to find true love without spending too much money to make it happen. With such a low price point, our members can focus on finding love, not on how much money they're spending to make it happen."
Latin singles that sign up for a paid membership with CristianoSolteros.com will be billed on a month-to-month basis. The company plans to add more membership/payment options in the future, such as the ability to buy three- or six-month memberships at a discounted rate.
"There are many Latin singles out there seriously committed to finding the right partner," said Danhieux. "With our three and six-month membership options, our members will be able to spend a substantial amount of time looking for true love without having to worry about the cost."
CristianoSolteros.com currently accepts payment via PayPal. The company plans on accepting all forms of payment in the future, including international credit cards.
"We pride ourselves on being one of the safest dating sites on the Internet," said Danhieux. "With the ability to pay via PayPal, our members can not only rest easy knowing they're joining a safe website, but also in the fact that their payments are processed by the web's most trusted payment service. For Latin singles that can't use PayPal, we plan on expanding our payment options in the future to accommodate everyone. Our goal is to make CristianoSolteros.com the most easily accessible Latin chat website."