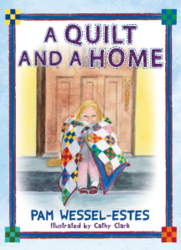 In crafting 'A Quilt and a Home,' author Pam Wessel-Estes draws on her more than three decades of experience in social services and public health to show the human side of being homeless.
EVERETT, Wash. (PRWEB) December 13, 2012
Eight-year-old Abby Olson has a secret – she lives in a homeless shelter with her mother and brother. In this new children's book, Abby writes down her story and her feelings of confusion, sadness and anger to help her cope with her father leaving and being forced to leave her home. The story is a timely one: The author notes that recent estimates show one in 50 children don't have homes of their own; instead, their families are staying in shelters, with friends or relatives, in cars or on the street.
In crafting "A Quilt and a Home," author Pam Wessel-Estes draws on her professional experience to show the human side of being homeless – especially a homeless child. As Abby sees her mother working on a quilt, the young girl tries to put the pieces of her life together: talking to the school counselor, helping care for her younger brother and being friendly to a new girl at the shelter. Illustrator Cathy Clark's watercolors enhance the gentle message of this story, which offers hope and encouragement to those facing difficult situations.
Author Pam Wessel-Estes co-founded a domestic violence and sexual assault advocacy center and led an organization that hosted an emergency shelter for families. She has degrees in psychology and has worked in social services and public health for more than 30 years. She and her husband live in the Pacific Northwest. Illustrator Cathy Clark, an artist and photographer, is a teacher by training and an avid hiker in the Pacific Northwest.
----------
For additional information, please visit http://www.AQuiltandaHome.com.
A Quilt and a Home
Pam Wessel-Estes
Dog Ear Publishing
ISBN: 978-1-4575-1489-0 36 pages $14.95 US
ISBN: 978-1-4575-1490-6 36 pages $24.95 US
Available at Ingram, Amazon.com, Barnes & Noble and fine bookstores everywhere.
About Dog Ear Publishing, LLC
Dog Ear Publishing offers completely customized self-publishing services for independent authors. We provide cost-effective, fast, and highly profitable services to publish and distribute independently published books. Our book publishing and distribution services reach worldwide. Dog Ear authors retain all rights and complete creative control throughout the entire self-publishing process. Self-publishing services are available globally at http://www.dogearpublishing.net and from our offices in Indianapolis.
Dog Ear Publishing – self-publishing that actually makes sense.