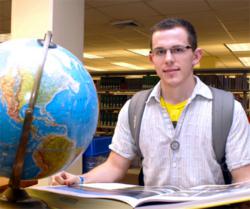 "My purpose for applying for this scholarship was probably the same as yours; to augment my financial aid and ease the burden of college debt on my family".
Orlando, Florida (PRWEB) December 14, 2012
GotChosen announced that David Fitzpatrick of Gaithersburg, MD won the 1st GotScholarship $40K to Give Away. And GotChosen is continuing its commitment to fulfill college dreams with the 2nd GotScholarship $40K to Give Away.
There are even more opportunities for future, current and graduated students with the international expansion to Canada, Brazil, Chile, Colombia and Mexico.
GotChosen partnered with Dr. Steve D. Whitaker, Ph.D., Head of School at The First Academy, in Orlando, Florida for the official drawing of the 1st GotScholarship $40 To Give Away.
The winner was determined using the True Random Number generator at http://www.random.org. This independent website is a cryptographically strong random number generator utilizing random chaotic atmospheric data.
The registration process David completed at GotChosen.com was simple and easy. He increased his chances of winning by using social media and gathering sponsors. David had nine sponsors – this was equivalent to ten entries for the GotScholarship $40K to Give Away.
GotChosen is an innovative startup in digital media currently headquartered in Orlando, FL. The company is developing an unparalleled interactive media and informational exchange experience for users.
An essential element of the core values of GotChosen is a deep-rooted commitment to give back. David is the first to benefit from the focus of making higher education available to more students.
For more information contact media(at)gotchosen(dot)com