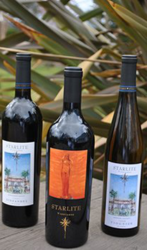 We are incredibly proud of our wines and the positive reception they've received from the wine community, our restaurant partners and our customers.
Geyserville, CA (PRWEB) December 13, 2012
Starlite Vineyards – the premier Sonoma County boutique winery – is honored to receive exceptionally high marks for four of its wine vintages. Its 2007 Zinfandel and 2007 Cabernet Sauvignon each received 94 points from the Beverage Tasting Institute, while its 2010 Viognier earned 93 points from the Beverage Tasting Institute. Its 2006 Zinfandel was awarded 92 points from the acclaimed Wine Enthusiast.
As a boutique winery, Starlite Vineyards has a tightly edited portfolio of Zinfandel, Viognier and Cabernet Sauvignon varietals. These wines are perfect on holiday menus, pairing brilliantly with dishes ranging from robust roasts to delicate vegetables.
"For a boutique winery like ours to receive such high ratings for so many vintages is a dream come true," said Arman Pahlavan, proprietor of Starlite Vineyards. "We are incredibly proud of our wines and the positive reception they've received from the wine community, our restaurant partners and our customers. We're looking forward to even more amazing wines to come."
Starlite Vineyards' 2007 Zinfandel has rambunctious fruit, subtle but jazzy spices with a middle palate from the proprietary blend and a gorgeous finish. The Beverage Tasting Institute, in giving it 94 points, remarked that it has "delicate aromas of dried cherries, toffee and earth with a silky textured dry-yet-fruity medium-to-full body and a tangy, dried fruit, pomegranate sorbet and Asian spices on the long, fine tannin finish."
The 2007 Cabernet Sauvignon, which also received 94 points, revels in seductive tones of plums and cassis with gorgeous tannins integrated into layer of silky textures and perfect acidity. According to the Beverage Tasting Institute, the wine features "deep aromas of berry pie a la mode, pickling spices and faint roasted pepper with a tangy, chewy, fruit-driven finish with notes of cherry tobacco and spiced nuts."
The 93-point 2010 Viognier is an audacious, full-bodied wine produced in the Condrieu tradition. It has been featured at top restaurants throughout the United States, including Jardiniere and Spruce (San Francisco) and Restaurant Daniel and L'Atelier de Joel Robuchon (New York). The Beverage Tasting Institute describes it as having "fruity and floral honeysuckle and honeyed apricot aromas with a soft, oily dry-yet-fruity medium-to-full body and a very pure crunchy ripe and cream, melon and mineral finish."
The 2006 Zinfandel is a claret-style, garnet-colored wine with rich berry fruit tones. It "shows Alexander Valley soft tannins and an herbal, sage and oregano edge to the enormously ripe blackberry, cherry and currant flavors, spiced with a great burst of black pepper," says Wine Enthusiast, which gave the vintage 92 points.
Not one to rest on its laurels, Starlite Vineyards last week finished bottling its newest vintage, the 2009 Cabernet Sauvignon, which will be released in early 2013. It is expected to be another exceptional wine, due to the ideal climate conditions that the Alexander Valley experienced that year.
For more information about Starlite Vineyards or Sonoma wine tasting events, call (650) 464-7154 or visit http://www.starlitevineyards.com. For information on how to become a wine club member, call (707) 239-5174. Stay connected with Starlite Vineyards at http://www.facebook.com/starlitevineyards and @StarliteWinery.
About Starlite Vineyards
Starlite Vineyards is a winery and vineyard estate located in Sonoma County's famed Alexander Valley. The wines are European style and have the following of the sommeliers at top establishments throughout the United States, who have hailed Starlite Vineyards' Cabernet Sauvignon and Viognier as the most expressive of the varietals. The vineyard was awarded a remarkable 92 points for its 2006 Zinfandel from Wine Enthusiast.
Starlite Vineyards is a top destination for wine enthusiasts, is placed on every Sonoma winery map and offers an ideal setting for wine tasting, Sonoma County wine tours and weekend getaways. The Tasting Room is open to the public Wednesdays through Sundays from 11 a.m. to 5 p.m., and on Mondays of major holidays. The winery is located at 5511 Highway 128, Geyserville, Calif.
Wines from Starlite Vineyards are available for purchase online and include free shipping.