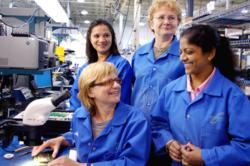 Vancouver, BC (PRWEB) December 13, 2012
Creation Technologies, a leader in providing tailored electronics manufacturing and design solutions to OEMs, has been named EMS Company of the Year by Circuits Assembly Magazine.
Headquartered in British Columbia, Canada, Creation Technologies was selected based on its "long history of performance excellence", "track record of growth to which few others can compare", a cellular manufacturing model that breaks the mold, and its people- and customer-centric focus.
The distinction is bestowed annually on EMS companies that have demonstrated profitability and sustained excellence among their peers in the electronics industry.
Said Mike Buetow, Editor-in-Chief of Circuits Assembly Magazine, "Creation Technologies was a surprise, and in more ways than one."
"We've been watching Creation Technologies with interest for several years. The company's track record proves consistent growth and profitability are not foreign concepts to North American manufacturers. What's remarkable is that Creation Technologies has never closed a site due to a lack of business. For a large Western-based EMS of its size, that's unheard of, and speaks well to its due diligence, management and execution."
Through this execution and acquisition, Creation has grown 36% over the last five years following a highly diversified model in which its top three customers make up just 10% of its overall revenue. Including the company's October 2012 acquisition in Mexico of Aisling Industries, Creation is now the largest privately held North American-based EMS company and fourth-largest in the world.
"We're honored to be recognized as 2012 EMS Company of the Year by Circuits Assembly Magazine, a publication with a track record of offering great insight to the electronics manufacturing industry," said Andy Hyatt, Creation's Executive VP Business Development. "We'll continue to strive to build the premier relationships that enable us to deliver customized solutions that deliver value to our customers and our communities."
The full Circuits Assembly article can be found at: http://www.circuitsassembly.com/cms/component/content/article/6-current-articles/13702-ems-company-of-the-year
About Creation Technologies
Creation Technologies is a Global Electronics Manufacturing Services (EMS) provider focused on building premier customer relationships with companies in the Instrumentation & Industrial, Medical, Wireless & Communications, Security & Environment, Defense, Multimedia & Computers and Transportation markets.
Creation provides start-to-finish manufacturing and supply chain solutions—from design and new product development to final integration, product distribution and after-market services—to its customers across North America and worldwide.
Creation's financial strength, employee ownership philosophy and commitment to ongoing investment in its technical capabilities have created a highly stable partner for original equipment manufacturers.
The company of 3,000 people operates 13 manufacturing locations and 2 design centers, with locations in British Columbia, California, Colorado, Texas, Minnesota, Wisconsin, Illinois, Kentucky, Ontario, China and Mexico.
More information on Creation Technologies can be found at http://www.creationtech.com.
About Circuits Assembly
For more than 20 years, CIRCUITS ASSEMBLY has been the leading brand and go-to publication for electronics manufacturers worldwide. CIRCUITS ASSEMBLY is the only magazine that specifically serves the surface-mount, mixed-technology and electronics assembly marketplace. Its editorial mission is twofold: to educate and inform electronics assemblers about the technologies in use today; and to prepare them for the changes in component packages, assembly methods and other processes expected in the future.
More information on Circuits Assembly can be found at http://www. http://circuitsassembly.com.
For more information, please contact:
Andy Hyatt
Creation Technologies
920.540.4070
andy.hyatt(at)creationtech(dot)com