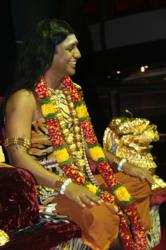 I tell you start being obsessed by Authenticity, you will be possessed by Authenticity.
Los Angeles, CA (PRWEB) December 12, 2012
More than 8 years ago Paramahamsa Nithyananda was the first person to predict that there would not be any natural calamities as portrayed in the movies and media, and instead it would be a time when there is a huge confluence of spiritual energies causing a Conscious shift when people will inevitably feel the impact of restful awareness due to sudden reduction in thoughts. He started training his disciples and followers with intense and powerful meditation techniques to handle this conscious shift and use it to move into higher dimensions of reality.
International Waters of Indian Ocean, 12-12-12: His Holiness Paramahamsa Nithyananda delivered meditation technique for the thousands of people from over 33 countries who joined him to participate in the 'Unclutching' meditation. 'Unclutching' is the powerful trademark technique and initiation started by Paramahamsa Nithyananda a decade ago as a path to enlightenment which results in immediate side effects of the awakening of the energy which in turn heals people of various mental, physical and emotional disorders. Till date, millions of people have been cured of diseases often by a single initiation by Nithyananda.
On the auspicious day of 12-12-12, Paramahamsa Nithyananda who is on the Cruise with hundreds of disciples and participants attending the world famous Inner Awakening program opened up the special meditation session to the whole world via 2 way video conferencing and on http://www.Nithyananda.tv.
MESSAGE from His Holiness Paramahamsa Nithyananda:
He said, "From today you will be able to perceive the cognition, the cognitive shift, the spiritual shift into the higher consciousness till 2015 end. The process already started, from today it will become visible and palpable in days to come."
Paramahamsa Nithyananda, started the 12-12-12 program by revealing the essence of the intensive training in Integrity and Authenticity which is being offered as part of the 21 day meditation retreat on the Cruise.
He said, "I tell you start being obsessed by authenticity, you will be possessed by authenticity. No obsession is good, but obsession with authenticity is great. Authenticity, starts when you have guts to face your in-authenticity. Every time you feel, any shrinking, any powerlessness, any conflict, be very clear, there is some in-authenticity in it.
"Dig deep into the situation with awareness, you will find in-authenticity in it. The ahankara, the identity you project to the outer world is one extreme one pillar and the identity you feel as you is mamakaraa. You oscillating between these two is in-authenticity, which is your life. When you stop giving importance to the ahankara, the identity which you project to the outer world, then the power of the inner identity mamakara, over you will also start melting down. One needs to have the guts to see the mamakara and to realize the evolution of mamakara. Self actualization leads to self realization. In the beginning, you start actualizing the mamamkara. Then you will see, the identity you know as you will start evolving."
He said, "My message on this 12-12-12 to humanity is, have courage and authenticity to face when the identity you are carrying inside you melts down and starts to evolve. Have authentic courage because from today, the number of thoughts is going to melt, and this straight away is going to melt the inner identity you carry about you.
"The first impact is going to be the melting of mamakara (inner identity) and not ahankara, because the outside identity is just based on outside actions. There is going to be vacuum in your mamakara. If you face it you will become enlightened if not you will become depressed.
"My 2012 message is have authenticity to face, when your inner identity melts down and upgrades and evolves itself. Courage to let go, the past record of your identity and to live up to the new possibility is authenticity."
Paramahamsa Nithyananda guided the participants who were in His direct presence and via Nithyananda.TV all around the world, into a simple but very powerful 5 step meditation and un-clutching Kriya. While elaborating on each step, he said, "Disassociate yourself completely from all perversions, namely the inner chattering, verbalization, visualization, self remembrance and self identification. The Upaadhi or self identification is a prefix or suffix to the source when one feels identified with language, country, religion, gender, etc. and this is also a source of perversion."
About His Holiness Paramahamsa Nithyananda:
His Holiness Paramahamsa Nithyananda is a global leader in the science of enlightenment. Nithyananda is revered as a living saint and a Avatar (divine incarnation) by millions worldwide.
He is the most-watched spiritual teacher on YouTube.com with more than 16 million views, and the author of more than 300 books published in 27 global languages. Nithyananda has been named among the world's top 100 most spiritually influential personalities of 2012. An accomplished yogi and gifted spiritual healer, Paramahamsa Nithyananda has healed diseases ranging from migraine to cancer, often with a single initiation.
For close to a decade now, Paramahamsa Nithyananda has been working with scientists and researchers to demystify the yogic sciences of the Universe, including kundalini awakening, DNA activation, brain-cell regeneration, levitation, materialization and yogic age-reversal.
For more details please visit:
http://www.youtube.com/lifeblissfoundation
http://www.youtube.com/108nithyanandavideos
http://www.youtube.com/watch?v=q7vemMPAQOY&feature=relmfu