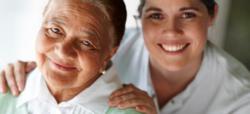 "For most hospitals, improving patient outcomes has moved from an aspirational goal to an absolute necessity in today's healthcare industry," said Mira Denning, CEO and co-founder of PPI.
Princeton, NJ and Portland, ME (PRWEB) December 13, 2012
Mercy Hospital in Portland and Goodall Hospital in Sanford have separately collaborated with the Patient Performance Institute (PPI) of Princeton, New Jersey and Portland, Maine, to help implement a new program to improve patient outcomes, focused on the hospitals' most vulnerable patients. The hospitals, with PPI, have put in place the Patient Performance Enhancement Tool (PET), a unique, non-clinical assessment tool that detects the personal circumstances and personality traits that may put patients at risk for readmission into hospitals after they have been discharged.
Using the PET, providers are able to identify the patients who may require additional support services to maintain their doctors' recommended care practices. Early results show hospitals that implement PET screenings are able to improve quality of care and better understand why some patients struggle to recover after a major illness.
The hospitals' leadership teams are reporting on the promise of the new program. Bonnie Deveau, vice president of quality and safety at Goodall Hospital, says: "Goodall Hospital's goal has always been to collaboratively establish a comprehensive and safe discharge plan for all our patients. The PET questionnaire allows the patient to self examine and articulate their lifestyle through a tool that quickly synthesizes areas of potential non-compliance."
Mercy's Chief Medical Officer, Dr. Scott Rusk, adds: "It is critically important for hospitals to identify patients who are at risk for non-compliance with their medical plans or follow up care, whether after an acute care hospitalization or when facing chronic illness. Specifically, through the PET test, PPI is helping us create individual care plans that increase value to the community while decreasing costs, thereby better allocating the limited resources available."
The PET is a written or oral set of questions fewer than 50 questions that patients complete themselves in as little as 15 minutes. The PET analyzes the non-clinical factors that research shows impact a patient's compliance with medical instructions once they leave the provider. These factors include financial and socioeconomic status, health literacy, emotional intelligence/personality, and family and social supports. PPI processes the completed exam within 24 hours, and produces a report for providers with results and recommendations.
"For most hospitals, improving patient outcomes has moved from an aspirational goal to an absolute necessity in today's healthcare industry," said Mira Denning, CEO and co-founder of PPI. "With private and government insurance pushing healthcare providers into more accountable care, providers must find creative, effective ways to improve patient outcomes."
The PET was developed through extensive research in existing literature and interviews with physicians, social workers, nurses, and administrators. In connection with the emotional intelligence section of the test, PPI's worked with experts in the field to pinpoint ten personality traits that may impact a patient's adherence to medical instructions. PPI trains providers with effective ways to better prepare their patients for discharge based on the results of their PETs.
Following the PET's early success, PPI is now making it available to hospitals and healthcare providers nationwide. Administrators who are interested in incorporating the PET into their standard discharge process can learn more online at http://www.patientperformance.com.