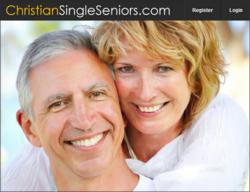 Along with our new layout, we're introducing a blog to help senior daters in their journey to find a long-term partner.
Torrance, California (PRWEB) December 19, 2012
ChristianSingleSeniors.com – a leading dating website for mature Christians – recently announced the debut of a clean, modern-looking layout for its front-end pages. According to company representatives, the site's new layout is intended to attract modern mature Christians, who now expect a more contemporary dating experience.
In an effort to appeal to today's discerning daters, ChristianSingleSeniors.com has given all of its front-end pages, all of the publicly accessibly pages, a more modern, minimalistic layout. The harmonious, simplistic design features more white space and is designed to be more inviting and appealing to the eye. Company representatives feel that the new layout is more suited to the tastes of today's modern mature dater.
According to company representative Olga Wright, ChristianSingleSeniors.com's new layout update is part of a concerted effort to offer members a modern dating experience: "We offer our members a variety of modern features, like chat, advanced search, instant messaging, email matching, polls, and many more. Our current layout, however, doesn't quite live up to our modern standards. Our design team gave our site a much-needed facelift, one which we feel will appeal to today's senior dating community."
ChristianSingleSeniors.com plans on launching this new look by Christmas in order to provide seniors with New Year's resolutions a more cutting-edge dating experience in 2013. "We see a lot of new signups around Christmas and New Year's, as many in the senior dating community start off the year by making resolutions to find long-lasting love. With our new site layout, we thought we'd make the dating experience more inviting overall for our members."
Along with a new look, the website will also feature additional info intended to appeal to mature Christians, including a senior dating blog. The blog will feature regular blog posts geared towards the senior single community. These posts, which will be updated on a weekly basis, will touch on subjects as varied as picking a fun first date venue to how to create an appealing profile.
"Finding a partner as a senior can be difficult, as most of the information and advice out there is geared toward younger daters. Along with our new layout, we're introducing a blog to help senior daters in their journey to find a long-term partner. Our dating experts will post advice geared specifically toward senior daters. With our site's many features and these informative articles, our members will be better prepared to date and build real relationships."
About ChristianSingleSeniors.com
Part of a leading Christian dating network established in 1997, ChristianSingleSeniors.com is unique in its approach: all of its members are committed to seeking out long-term, faithful relationships. Unlike most dating sites, this senior dating service does not allow casual dating. The sites of this Christian online dating community have gained great popularity and are frequented by Christians from all over the world. An approved member of the BBB online Reliability Program, Christian Singles Commitments Corp is committed to providing safe and secure online dating.