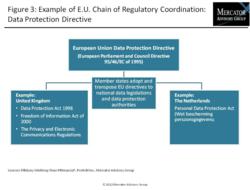 "Although the sharing of personal and financial data has become commonplace in today's society, the large number of parties accepting and processing financial data in order to complete a transaction highlights the importance of regulation of privacy
Boston, MA (PRWEB) December 27, 2012
As payment technologies have evolved, so has the global consumer preference for noncash payment options. While electronic payment methods offer unique advantages over cash and other traditional payment means, the amount of personal and financial data being shared and collected has never been higher.
Mercator Advisory Group's latest research, Data Privacy and Security: A Review of Global Regulatory Developments, identifies trends and common characteristics among global privacy and data protection laws, examines the three main regulatory models in use, explores current issues and recent developments regarding data protection around the world, and proposes a solution for an efficient global framework to facilitate increased exchange of secure data.
To maintain the trust of consumers in new payment technologies, ensuring the security of sensitive data has become paramount for members of the payments industry and the public sector. To date, there is no international standard on privacy and data protection, and individual countries are responsible for determining regulations. This approach has made business more difficult, particularly when transactions include third parties and cross borders.
Understanding the differences between regulatory models and new emerging trends is essential for members of the payments industry as international markets become increasingly interconnected.
"Although the sharing of personal and financial data has become commonplace in today's society, the large number of parties accepting and processing financial data in order to complete a transaction highlights the importance of regulation of privacy and data protection." Tristan Hugo-Webb, analyst in Mercator Advisory Group's Fraud, Risk and Analytics Advisory Service and author of the report comments. "The importance of regulation in cross-border transaction is underscored by the fact that there is no accepted international mandate on privacy, which means that each country, or region in the case of the European Union, is responsible for developing rules, which makes business for industries like the payments industry difficult when processing international transactions."
Highlights of this report include:

Comparison of European, Asian, and U.S. regulatory models
Privacy and data protection developments in Africa and BRIC countries
In-depth examination of a premier international data sharing agreement
Proposed solution involving public and private sector collaboration to more effectively exchange financial data
This report is 24 pages long and has eight exhibits.
Companies mentioned in this report include: American Express, Capgemini, Discover EFMA, EMVCo, MasterCard, Pinsent Masons MPillay, RBS, and Visa.
Members of Mercator Advisory Group's Fraud, Risk, and Analytics Advisory Service have access to this report as well as the upcoming research for the year ahead, presentations, analyst access, and other membership benefits.
Please visit us online at http://www.mercatoradvisorygroup.com.
For more information and media inquiries, please call Mercator Advisory Group's main line: (781) 419-1700, send e-mail to info(at)mercatoradvisorygroup(dot)com.
For free industry news, opinions, research, company information and more visit us at http://www.PaymentsJournal.com.
Follow us on Twitter @ http://twitter.com/MercatorAdvisor.
About Mercator Advisory Group
Mercator Advisory Group is the leading, independent research and advisory services firm exclusively focused on the payments and banking industries. We deliver pragmatic and timely research and advice designed to help our clients uncover the most lucrative opportunities to maximize revenue growth and contain costs. Our clients range from the world's largest payment issuers, acquirers, processors, merchants and associations to leading technology providers and investors. Mercator Advisory Group is also the publisher of the online payments and banking news and information portal PaymentsJournal.com.