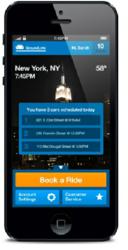 We've created an even easier, faster, more intuitive way for business travelers to manage their ground transportation on the go
New York, NY (PRWEB) December 17, 2012
GroundLink, the next generation car service, has launched an improved version of their award winning mobile app. GroundLink took the technology lead in 2011 and continues to innovate and maintain its edge with the release of the third version of the iPhone mobile app.
With thousands of successful rides per day worldwide, GroundLink leveraged consumer feedback to create version 3.0, and the results reflect it. "We've created an even easier, faster, more intuitive way for business travelers to manage their ground transportation on the go," says Mobile Product Manager Jeff Novich, "and we're especially proud of that given the car service industry isn't exactly known for its exciting technology." The improved version features…

a redesigned interface and navigation
a new "dashboard" where consumers can view past rides, save addresses, and create trip favorites, making booking a quick process from the palm of your hand
the ability to swipe the screen and see ride details
enhanced sharing where consumers can email or text their status, email receipts, and add rides to their iPhone calendar
"Demands on the business traveler are growing every day. We are constantly innovating because we have proven we can make business travel easier," said Ken Kantor, Chief Marketing Officer at GroundLink. "We are already a leader in the car services industry, providing superior reliability, worldwide coverage, and competitive prices, but we believe our technology is the real differentiator." Kantor added, "features like real-time tracking of your car, automatically adjusting pick-up times when flights are late, and the ability to rate your driver are already transforming the consumer experience. And we have many exciting new features coming soon."
The new iPhone app is available now in the Apple Store https://itunes.apple.com/us/app/groundlink/id459161879?mt=8, and GroundLink will launch the Android version of 3.0 in the late December/early January time frame.
About GroundLink
GroundLink is the next generation car service, leveraging a proprietary technology platform to provide easy, reliable ground transportation services for business travelers worldwide. The GroundLink mobile app was cited by USA Today as best in class in 2011. GroundLink was also awarded the ODIGEO Award for Travel Innovation and the Creative Alliance Award for Travel Innovation by leading travel industry firm, PhoCusWright. GroundLink has teams in North America, Europe, and Asia, with headquarters in New York, NY.
http://www.groundlink.com
http://www.groundlink.com/app
For more information, please email: pr(at)groundLink(dot)com.