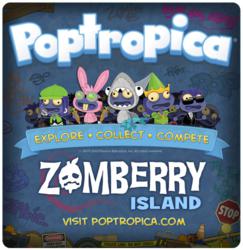 Boston, MA (PRWEB) December 18, 2012
Zombies arrive on Poptropica with the launch of "Zomberry Island." Available tomorrow to Poptropica Members with Early Access, the 32nd Island on the popular virtual world for kids challenges players to end the zombie outbreak and save the citizens of the town of Eastman. Non-members will have access to part of the Island before its public launch on Jan. 10, 2013.
Upon arriving on "Zomberry Island," Poptropica players will discover that Eastman's residents are mutating into something horrible – it's a zombie outbreak! Now with the streets of the city quarantined, the survivors are trapped and ghouls prowl the streets. Players must end the plague and save the citizens of Eastman from the dangerous zombies. However, in this game, they face a special challenge – danger lurks in the shadows and so players must remain in the light to stay safe from zombies.
"It was just a matter of time until a zombie outbreak hit the global community of Poptropica," said Jess M. Brallier, publisher of Poptropica. "However, we are confident that our millions of players from more than 130 different countries around the world are brave enough to overcome this horrifying invasion and save the citizens of Eastman as they complete this new and ghoulishly fun Island quest."
In a special "Zomberry Island" bonus quest for Poptropica Members, the zombie threat has been contained, but greater danger lurks beneath the streets of Eastman. To prevent an even more catastrophic zombie outbreak, Poptropica Members need to venture into the town's sewers with only a flashlight and their wits. To support this challenging quest, Poptropica Members receive special items including a special "Big Blue" power that allows them, temporarily, to become an enormous zombie; a special safety flare item that they can place on the ground to create a halo of bright light; and, during Early Access only, a Z.M.B. Unit costume, a SWAT-style outfit that will protect their Poptropican from hungry zombies. Parents can buy Poptropica Memberships for their kids in one-, three- or six-month increments.
Named as one of TIME magazine's Top 50 websites of 2011, Poptropica has been visited by more than 258 million kids worldwide, and more than 510 million characters have been created since its launch in 2007. Plus, more than 80 million friend connections have been made around the globe in Poptropica's safe and secure social networking offering, Poptropica Friends. All Poptropica Islands are free to play, and each represents a unique theme and challenge.
Kids can stay up to date on news about upcoming new Islands and other exciting developments in the world of Poptropica on the official blog at http://blog.poptropica.com/.
About Poptropica (http://www.poptropica.com)
Poptropica is a virtual world in which kids explore and play in complete safety. Every month, millions of kids from around the world are entertained and informed by Poptropica's engaging quests, stories and games.
Kids create a "Poptropican" character to travel the many Islands of Poptropica and use gaming literacy to enjoy a narrative that is often rooted in factual history. Problem-solving skills are honed as kids discover and solve mysteries unique to each Island.
There are always new areas to explore in this ever-expanding world where kids can collect objects, read digital books and comics, watch movies and compete in head-to-head competition. Parents can always trust that their children are playing – and learning – in a safe online environment.
Poptropica is published by Family Education Network, a part of Pearson, the education, services and technology company. Pearson's other primary operations include the Financial Times Group and the Penguin Group.