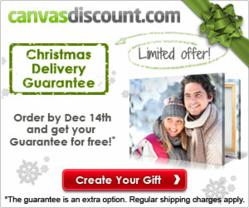 If the Christmas Delivery Guarantee is added to the customer's order, we guarantee to deliver their canvas print by December 24th
(PRWEB) December 13, 2012
Managing to get a gift delivered to a customer in time for Christmas is a challenge for any company when it is already halfway though December, but canvasdiscount.com has gone one step further with a specially designed product for the Christmas period.
"The Christmas Delivery Guarantee is an additional premium product that customers have the option of adding to their basket when placing an order for a canvas print" says the company spokesperson. "If the Christmas Delivery Guarantee is added to the customer's order, we guarantee to deliver their canvas print by December 24th or the customer will be issued with a full refund and they can keep the canvas print when it does arrive."
We asked the company spokesperson to explain the promotion in more detail, including what it means for last minute customers seeking the perfect Christmas gift for a loved one or family member:
"Christmas Delivery Guarantee is an incredible offer for customers. Provided the customer adds the Christmas Delivery Guarantee option when placing the order, we will absolutely guarantee to deliver the finished print to the customer by Christmas Eve at the latest. We are confident no other canvas print company can match our offer or delivery times" explained the company spokesperson.
How Much Does The 'Christmas Delivery Guarantee' Cost?
Normally a premium delivery option like the Christmas Delivery Guarantee would be an additional fee, on top of normal delivery charges, to ensure delivery for Christmas. However, Canvasdiscount has decided to make this additional delivery option free for the next two days only, with customers only having to pay the normal delivery cost.
"This optional Christmas Delivery Guarantee will be free for today and tomorrow" announced the spokesperson. "If a customer orders a canvas print by December 14th they will have the option of adding the Christmas Delivery Guarantee to their basket free of charge. However, our Christmas Delivery Guarantee option can only stay free until December 14th, after which the cost is likely to increase due to the last minute rush of orders."
Customers interested in purchasing a beautiful canvas print as a Christmas gift are encouraged to place their orders as soon as possible to take advantage of this incredible offer.
About Canvasdiscount.com:
Canvasdiscount is a customer-focused company providing high quality canvas prints at the lowest prices on the web.