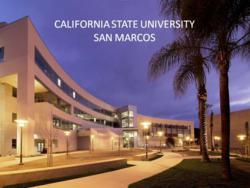 This program provides teachers with the advanced technology skills they need to enhance classroom learning. - Mike Schroder, dean of Extended Learning
San Marcos, CA (PRWEB) December 13, 2012
California State University San Marcos (CSUSM) is launching a new advanced certificate in educational technology for credentialed K-12 teachers starting in the Spring term of 2013. This program is designed to provide educators with the skills and information needed to utilize cutting-edge technology in the modern classroom. The courses are offered entirely online, although some courses are also available in a hybrid classroom format.
"CSUSM created this program to respond to a growing need for technology training for classroom teachers," said Mike Schroder, dean of Extended Learning. "This program provides teachers with the advanced technology skills they need to enhance classroom learning. The technology teaching certificate program is an ideal choice for all teachers looking to expand their use of modern technologies in the classroom."
The courses required for the certificate are offered entirely online through Extended Learning, in partnership with CSUSM's School of Education. The program features a wide variety of web-based tools and applications to help teachers become leaders and innovators in their school's technology programs.
The program is comprised of several different courses, each with a different technology-related focus. Two of the courses are three credit courses, and the rest are single credit units.
Interested teachers can learn more about the certificate program in educational technology by contacting Extended Learning at CSUSM at http://www.csusm.edu/el/ or 760-750-4020.
About CSUSM Extended Learning
As the academic outreach arm of Cal State San Marcos, Extended Learning is a leading provider of professional and continuing education in North San Diego and Southwest Riverside Counties. Offering degree programs, such as an MBA in Riverside County (Temecula Campus), as well as both academic credit and noncredit professional enrichment courses, Extended Learning helps individuals and organizations achieve their educational and training goals. For more information please visit http://www.csusm.edu/el/.