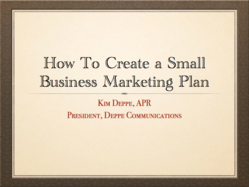 "Small business owners usually do not have a marketing background, so they sometimes become prey to the parade of sales people who come into their business," said Kim Deppe, president of Deppe Communication
Jacksonville, FL (PRWEB) December 28, 2012
Deppe Communications, a marketing agency based in the Jacksonville, FL area, has updated its website and added new tools for small business owners. In addition to a small business marketing blog, the website includes practical information for building a marketing plan and using social media.
"Small business owners usually do not have a marketing background, so they sometimes become prey to the parade of sales people who come into their business selling them advertising or other marketing tools," said Kim Deppe, president of Deppe Communications. "Our new website offers step-by-step guides and useful information to help small business owners craft a marketing path that will help them grow and save them money."
Among the tools offered on the website a guide to building a marketing plan. The free download is called "How to Create a Small Business Marketing Plan" and describes eight steps business owners can take to create a plan. The document emphasizes the need for small businesses to plan out their marketing expenses and measure their results.
"I have presented this step-by-step guide to a number of groups of small business owners," Deppe said, "and I repeatedly hear how helpful it has been for them. They appreciate the simplicity of the plan."
The new Deppe Communications website has a redesigned look and feel, making it easier to navigate, Deppe said. It incorporates blog posts from two marketing blogs as well as a section on social media for small business.
Deppe said she envisions the site as a resource for small business owners who need help with their marketing or understanding which marketing tools they should be using. "Sometimes it is just a matter of the owner knowing the basics; for example, what social media is and why it is important," she said.
Deppe Communications is a marketing agency that provides outsourced marketing and public relations services to businesses. They specialize in helping small and medium-sized businesses craft and implement marketing strategy. Kim Deppe is an Accredited Public Relations professional with over 25 years corporate marketing experience in healthcare, finance, retail and media. Based in the Jacksonville, FL area, Deppe Communications serves clients across the U.S.
###