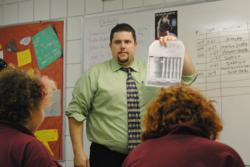 (PRWEB) December 23, 2012
Molly Cataldo of Evart, Jodie Vanderstow of Falmouth and Adam Johnson of Leroy visit, generally twice per year, and provide a very hands-on basic personal finance planning course for residential youth. Today will be the final session. It seems everyone is feeling quite a bit of accomplishment.
Vanderstow commented, "We greatly appreciate the opportunity to help these students with their futures; giving them a little bit of financial information that may help them later on. It's rewarding to make a difference in young people's lives and help them on their road success."
A different topic is covered each week including keeping a checkbook ledger, bill paying, planning for college, credit and career planning. The most recent class found each teen with a stack of utility and household bills in hand, a fictitious bank account balance and a ledger. Vanderstow and Johnson led the group through understanding different types of bills, bank balances and accurate record-keeping, writing checks or using debit cards to pay bills and balancing a checkbook.
Vanderstow also shared about one young man who impressed her. "I have had several good conversations with one young man in class and just recently after class he stopped to ask some excellent questions. During that discussion I was able to see a picture of the car he was looking to purchase for a class they were doing in their house. He had put a lot of thought into it and even made it realistic to what he could afford. It has been amazing this year to see so many students who are really driven in what they want to do in life. It's been a wonderful experience."
Eagle Village is a family treatment center providing Intervention Services, Residential Treatment, Foster Care and Adoption services for all counties in Michigan. If you know of a family in crisis that may benefit from these programs contact Eagle Village at 231-832-2234 http://www.eaglevillage.org