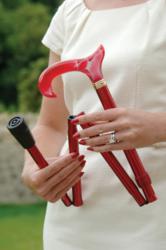 Lady Lake, Florida (PRWEB) December 14, 2012
Walking-Canes.Net has received the new 2013 line of Adjustable Walking Canes. The canes represent some of the latest in fashion from Europe and are the most popular of the canes offered today. From basic everyday styles to the most fashionable canes in the world many are offered at all price points. The new line comes from England, France and Italy. Take a look and see what the website has to offer.
Aluminum adjustable walking canes have made the industry a fashion industry for the disabled. Adjustable canes are lightweight and can easily adjust to a variety of different heights and can be printed on with a multitude of colors and designs.
Many of the styles come in men's walking canes and ladies walking canes. The colors are bright and cheerful and can make a wonderful addition to any wardrobe. Take a look at the all new animal designs offered which include The Leopard, Cheetah and The Parrot. These adjustable canes are all made in aluminum. The designs are unique and beautiful. Many people become frustrated by all the guesswork involved with measuring for a cane. The new adjustable cane puts an end to that. A simple click changes the height.
The stick can adjusts quickly to the height required of the user. Fast and simple are the some of the reasons why so many people have made this type of stick the most popular of the walking canes. Once a forbidden item to the walking cane world everyone thought of aluminum as cheap and not sturdy. Now with the latest technology the sticks are very popular and offer extra stability.
Customer Service can help place any order by dialing toll free 1-888-928-1774 during normal business hours. Shipping is fast and free on many of the sticks shown on the website.